Tackling your first winter of driving in Canada
By Kijiji Autos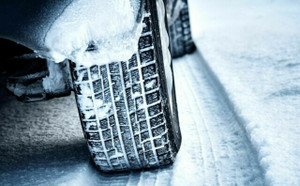 To say Canada has some pretty drastic weather changes over one calendar year is an understatement. Summer driving here is much like the rest of the world, but our winters are a whole different experience. If the upcoming winter driving season is your first, here are some tips on how to make the most of it, from safely driving on snow to picking out a ski rack.
Driving on the snow
There's a reason investing in a good set of winter tires is our first recommendation in the Kijiji Autos winter driving essentials list. Winter tires offer more grip on the white stuff than all-seasons and excel at lower temperatures. In Quebec, they're even required by law during the colder portions of the year.
When you're driving on snow, avoid making any sudden inputs to the wheel or pedals. Sharp throttle use can cause the wheels to spin, even with cars with traction control. Sudden braking can also lead to sliding. This is especially true on downhill sections: Start braking early and gradually. If your car has a gear-select ability, use a lower gear to increase the engine braking, as well.
Remember that braking distances are increased in snowy weather, so leave extra space from the car ahead, especially on the highway.
If your car has an anti-lock brake system (ABS), don't ""pump the brakes"" in the instance of a skid. Apply solid, consistent pedal pressure and let the system determine maxing braking for you. Avoid using cruise control, too. If your car hydroplanes—when the steering becomes unresponsive due to water or snow—the cruise control system will try to accelerate instead of slow down!
Tire chains
Tire chains and studded tires provide even more grip in extreme winter weather. Most provinces and territories allow them, with some, such as British Columbia, requiring chains on commercial vehicles for part of the year. The exception is Ontario: Southern Ontario completely bans studs and chains (barring visitors from out of area). Northern Ontario does allow for studded tires, however.
Check your province or territory's transportation laws to determine whether you should invest in chains or studded tires. Be sure to check things like stud count, and remember to swap them before the final day they're allowed.
Picking a roof rack
One of the joys of winter in Canada is skiing and snowboarding! Roof rails open up the option to carry a dedicated rooftop rack for your gear.
Not all cars have roof rails, but there are aftermarket magnetic or suction-style options available to add them. These temporary solutions have the advantage of only going on when you need them; roof racks can negatively impact fuel economy, especially when they're loaded up!
You can find ski racks at most car part retailers, in all shapes, sizes and price points. If your car doesn't have roof racks, there are magnetic ski racks available. Note that not all cars will accept a magnetic option, though: If the roof is aluminum or has a large panoramic sunroof, it won't be able to attach.
Looking for that first car to tackle the Canadian winter? Browse the selection of thousands of cars at Kijiji Autos.
Easily find your next ride on Kijiji Autos
Search now