Tips for going on a road trip and long distance drives
By Kijiji Autos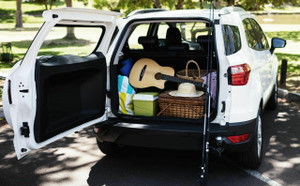 Hitting the open road can feel exhilarating and freeing, but before you head out on your road trip, it's always best to make a checklist to make sure you don't miss any important preparation.
From making sure that your car is ready to roll, to remembering all of the important items, there can be a lot to keep track of before your journey begins. To help you on your way, here's basic trip planner checklist to ensure you don't forget the essentials.
Car Maintenance
Before you take on the highways and back roads, it's important to give your car a thorough checking and perform any needed maintenance to prevent issues once you head out. Check your fluids and top up levels so nothing will be running low during your adventure. If you are close to due for an oil change, have it done before the trip, even if it's a little early. Inspect the engine and check for any cracks or wear and tear in the belts and tubing that may indicate that it's time to replace them.
Take a look at your tires, checking for any visible damage and testing the air pressure in each to ensure all are correctly inflated. Review your vehicle's total load capacity to be sure that you don't overload your car. Finally, if it's been a while since you went in for a tune up or brake check, take your car in for a little professional care and review.
Emergency Road Supplies
While proper preparation helps to prevent issues while you're out on the road, it's always best to keep gear on hand just in case of the unexpected. A spare tire and jack is a must bring, in case a sharp rock or nail in the road causes a puncture. Stock up on an extra bottle of fluids like oil, coolant and windshield wiper fluid to have handy if you need to do a top up. Make sure that each kind of fluid matches the kind that is currently in your car. A car battery jump starter can save the day if your car battery goes dead, but if you don't want to buy one of those, at least always carry basic jumper cables in the car.
Invest in a GPS unit to help make navigating the new route easy, but also take current maps along in case the GPS fails. Pack an emergency kit of non-perishable snacks and extra water, warm blankets, a cellphone backup battery and a first aid kit to ensure that you are prepared in case of being stranded or delayed.
Packing Essentials
Make a checklist ahead of time to ensure that you don't miss any of the packing essentials. These will vary based on the time of year and your road trip destination. Once you've put together the basic clothing, toiletries and gear that you must bring, take a look at what accessories will help to make your trip even more enjoyable. A portable cooler that can plug into the cigarette lighter can be a great way to keep beverages and snacks cool on the road. A tent instantly allows you to set up camp and enjoy a day spent at the more beautiful stops along the way. Portable electronics like DVD players or tablets or a few books can help the miles go by if your passengers get tired of watching the road.
A road trip is a great way to get away from home and enjoy a break from your routine. Visit Kijiji Autos for more tips to make sure you and your vehicle are ready to drive off into your next adventure!
Easily find your next ride on Kijiji Autos
Search now