What you need to know about the future value of your new car
By Kijiji Autos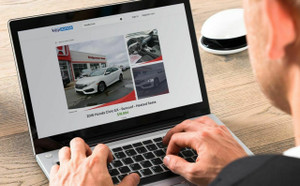 Your car won't always be new, but it will always have value. It's up to you to make the most of it!
Buying a new car requires some planning and a substantial amount of money. But you must also remember that in addition to buying a means of transportation you're acquiring an object of great value for which you could receive serious cash at the time of resale.
The resale value should be one of your considerations when you select a new vehicle. You have to understand that if you pay $20,000 at the time of purchase, there's a good chance that when you want to buy a new model in four years you'll receive about $9,000 from the resale of your used vehicle. That's the average market value of a used car of this age in good general condition.
But it's not a given — far from it — and calculating a vehicle's resale value is not an exact science. Nonetheless, it must be taken into account when you buy the car, especially if you know you don't want to keep it for a full decade.
Resale value
The resale value of a used car is determined by several factors. One of them is depreciation, which is calculated by specialized firms. It's a good indicator, but other considerations also influence the vehicle's new price, including maintenance, mileage, cleanliness and the popularity of the model.
If you're a member of an automobile association like CAA, the organization will be able to provide you with a projected value based purely on objective factors by using your Vehicle Identification Number (VIN), also known as the serial number. The VIN can be found on the windshield or inside the driver's door. You'll be provided with the price you can expect from a dealer, based strictly on the depreciation projections of the manufacturer.
In other words, it will give you some idea, but nothing specific.
There are also many reports available online that will give you an estimate of the value, depending on the model, year and version of your vehicle. You can also access tools created by national consumer advocacy organizations, such as the Automobile Protection Association (APA), which conduct their own assessments each year. But they'll never give you a precise figure.
Browsing through the pages of sites such as Kijiji will help you too. By comparing your car to similar models from a few years ago, you'll have an approximate idea of its price on the resale market, which can act as a guideline.
Why worry about resale value?
You may be thinking, why fret about resale value? I don't plan to change cars right away, and it doesn't affect me right now. But in fact, the price set for your vehicle in the used-car market can have an immediate impact.
Did you know, for example, that your insurer will set your premium according to resale value as well as risk factors? Also, if you opt only for replacement value, the amount you receive in the event of an accident is based on average resale values.
Another interesting fact: many insurance company analysts use sites such as Kijiji Autos to establish average vehicle values before making a payout because it helps them evaluate the real market.
Remember, knowledge is power. If you have your eye on a model, learn what you can about its future resale value before you sign the dotted line.
Easily find your next ride on Kijiji Autos
Search now