3 of the best cars for winter in Canada
By Kijiji Autos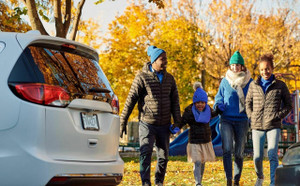 For a car to comfortably handle Canada's chilly winters, it needs to check a few boxes. Whether you're planning a winter ski trip or are just looking for the best car for winter driving in the city, you're going to want something with an abundance of space, four-wheel drive and plenty of power.
Your well-being remains our top priority. Please seriously consider whether in-person meetings are necessary and visit our  for more information.
By choosing a vehicle with four-wheel drive and a spacious cabin, you're guaranteed to feel free even when the roads are covered by a blanket of snow. Although it can be an expensive feature on a new car, four-wheel drive is generally an affordable add-on in a used car. These three options are sure to serve winter drivers well.
Honda CR-V
Offering a spacious interior for passengers with lots of cargo space, the Honda CR-V provides more than enough room for the whole family as well as all of their ski gear. Drivers will love having an increased view of the road when trying to navigate snow-covered surfaces thanks to the CR-V's generous ground clearance.
Although the car comes standard with front-wheel drive, many nearly new models can be found with the coveted all-wheel drive for extra traction in the snow. The CR-V also comes standard with a number of safety features that one would usually find on more expensive models, so you can feel safe and sound while on long trips to the chalet. The Honda CR-V has continued to be one of the most popular and reliable crossovers on the market since its introduction in the mid-1990s.
Audi Q5
If you're willing to pay a little bit more, then the Audi Q5 is an excellent car for winter in Canada. Cutting an impressive figure with its streamlined silhouette, this mid-sized SUV has found itself on the best-selling list several times over the course of its life. Available with Audi's quattro all-wheel-drive system, this car offers plenty of strength and style.
The Q5 was designed with spaciousness in mind, so family trips up to the ski hill are sure to be comfortable. Since the Audi Q5's second generation and beyond (2016 to present), a range of high-performance safety features have become a major focus—letting you concentrate on the road in front of you.
Volvo XC70
The original cross-country version of the Volvo V70, the XC70 quickly became one of the most popular options in its category thanks to its use of standard all-wheel drive with an increased ground clearance. It became so popular that many other manufacturers began to copy it and now have similar models in their rosters. Fast forward to the present day, and the Volvo XC70 is still a popular utility wagon that remains unchanged since 2016.
Offering a spacious cabin, this vehicle can easily fit all of your family's luggage and gear for long trips to the countryside. With an especially fuel-efficient performance of up to 9.8 L/100 km on the highway and exceptional traction, later generations of the XC70 are some of the most effective cars for winter.
All of these cars represent strong choices for winter driving, but one of the most important factors to remember when dealing with extreme cold is proper maintenance.
Whether you're looking for a new car to keep up with your winter getaways or the best car to tackle winter in Canada, Kijiji Autos has a wide selection of new and nearly new vehicles to choose from.
Easily find your next ride on Kijiji Autos
Search now