7 popular convertible cars in Canada
By Kijiji Autos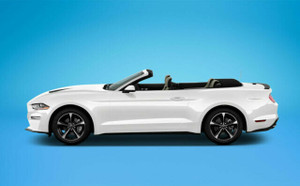 Convertibles are fun and adventurous cars that are perfect for cruising around when the weather is great. Are you looking to buy a convertible? From roadsters to off-roaders, convertibles (or cabriolets) are a great choice for those who love driving for its own sake.
Can't decide which convertible is right for you? Listed in no particular order, explore these popular convertible cars in Canada, courtesy of Kijiji Autos: 
1. Porsche Boxster
If style and speed are at the top of your priority list, the Porsche Boxster is an excellent choice if you don't mind the high price tag. With just two seats and limited cargo space, the Porsche Boxster is the epitome of the classic sporty convertible.
Discover its engine power at the Porsche Boxster overview page. 
2. Fiat 500C
The Fiat 500C is a zippy soft-top convertible that's great for city driving thanks to its compact size. Drivers will appreciate its user-friendly infotainment system and fuel economy.
Want to test drive this two-door convertible? Find a Fiat 500C convertible near you.
3. Mazda MX-5
For those who love the look and feel of a luxury sports car but who don't want to spend the luxury price tag, the Mazda MX-5 is a popular choice. This two-seater hardtop convertible is fast and modern and gives drivers a ton of tech options.
Learn about the optional six-speed manual transmission at the Mazda MX-5 overview page.
4. Ford Mustang
The Ford Mustang convertible has the look and strength of the all-American muscle car drivers have loved for generations. While it seats four, this model is more comfortable as a two-seater and its seemingly endless amounts of performance options make the Ford Mustang a truly fun ride.
Discover the most recent additions to its safety technology at the Ford Mustang overview page. 
5. Chevrolet Corvette
The Chevrolet Corvette is an automotive icon. Known for its sleek design and beastly performance, the Chevrolet Corvette is easily recognizable on the road. This two-seater convertible may be fast, but its robust safety features will keep you feeling in control.
Find out what kind of engine power it has to offer at the Chevrolet Corvette overview page.
6. Jeep Wrangler
The Jeep Wrangler is a completely different kind of convertible. Built for rugged terrain, this model allows drivers to become one with the landscape when the soft top is removed. The Jeep Wrangler is ready to go wherever adventure takes you.
Check out its impressive list of performance options at the Jeep Wrangler overview page. 
7. Chevrolet Camaro
The Chevrolet Camaro convertible is designed to compete with the Ford Mustang, with its muscly exterior and eye-catching profile. The Chevrolet Camaro is strong and sporty and its performance-driven engine practically roars on the highway.
Check out this convertible's impressive interior at the Chevrolet Camaro overview page.
Find a convertible for sale near you
Did you know that Kijiji Autos makes it easier than ever to buy a car online? Take advantage of our search filters, free payment estimator, detailed dealer reviews and vehicle overview pages. Start your search for these popular convertible cars in your area and confidently connect with a dealer today.
Your well-being is our number one priority. Consider whether in-person transactions are necessary and visit our Help Desk for more information and guidance on how to trade or buy safely.
Easily find your next ride on Kijiji Autos
Search now