How is AI used in cars?
By Kijiji Autos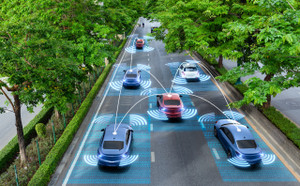 It is no secret that as technology continues to mature, the automotive industry upgrades and improves upon itself. One of the biggest game-changers in today's auto market is the evolution of artificial intelligence (AI). Autonomous cars and smart technology are becoming more prominent, and vehicles are becoming futuristic machines.
With the pace that technology matures, it is no wonder that consumers are getting more and more confused as to what this evolution means for their driving experience. Self-driving cars are seemingly the way the industry is headed, but what does that mean for the modern driver?
Let's explore a few ways that AI is impacting the automobile experience.
Autonomous vehicles
At the frontlines of AI in cars are boundary-breaking new and start-up companies that are rethinking how automobiles work. There are many young companies shaping tomorrow's roads, including Motional, Optimus Ride and Waymo. Of course, paving the way is American electric vehicle manufacturer Tesla.
Tesla is at the forefront of AI with smart technology, the Tesla robot and AI auto. During the 2021 Tesla AI Day, the company all but guaranteed that fully self-driving cars were a realistic part of the near future. Aside from the Tesla bot, the company has been working on autonomous cars since 2015. The truth is they are substantially close to some amazing breakthroughs.
Openly, self-driving cars are beginning to make their way into the mainstream and should be a part of everyday life soon. However, a boundary that still requires a bridge to cross is the ethical ramifications of computer-operated vehicles. For example, who is legally responsible for damage caused by an autonomous vehicle?
Driver-assistance
Contrary to the quickly developing autonomous AI, there are a lot of auto manufacturers that believe people will still want to drive their own vehicles. There could be many unique ways that these technological breakthroughs assist in-person drivers.
AI-powered advanced driver-assistance systems have already made an impact on the average driver. Vehicles are already capable of parallel parking completely hands-free. But there are many other ways that AI is shifting automobiles, including drowsiness detection, lane assistance, automatic braking and lane-departure warnings, to name a few.
There are many advancements still to be made using AI-powered driver-assistance systems. Intelligent and conversational tech products will become more commonplace as computers advance. Driving analysis and real-time alerts will also develop. And fleets, ride-sharing companies and other automobile adjacent industries will also be taking advantage of modern AI systems.
Manufacturing robotics
Finally, AI is changing how cars are being built, sold and even insured. The development of AI technology has ramifications throughout all industries. Manufacturers are investing heavily into developing robotics that can analyze and detect while building vehicles. Additionally, repairing vehicles will also be easier with the autonomous capabilities of modern cars.
Shop for new and used vehicles with the latest technology with the extensive catalogue available on Kijiji Autos.
Easily find your next ride on Kijiji Autos
Search now