10 of the most popular small electric cars for city driving in Canada
By Kijiji Autos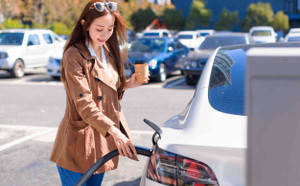 While electric vehicles used to be pretty rare on Canadian roads, we're beginning to see a surge in the number and variety of EV cars available in Canada. From tiny electric cars to rugged all-wheel-drive electric models, Canadian drivers are adopting eco-friendly vehicles at an ever-increasing rate. The good news is that while electric cars can still be a bit pricey, you can find a great selection of well-maintained used models for sale right here on Kijiji Autos. Buying used can be both a sustainable option and a fantastic way to find affordable electric cars that fit your budget.
To help you decide which electric vehicle is right for you, here are 10 of the most popular EV cars in Canada, in no particular order:
1. Tesla Model 3
The top-selling electric vehicle in Canada, the Tesla Model 3 is a small sedan outfitted with plenty of high-tech features. Base-level models offer rear-wheel drive and a 430 km range. The Tesla Model 3 Long Range is equipped with dual-motor all-wheel drive and has an extended range of up to 538 km on a single charge. The Tesla Model 3 Performance accelerates from 0 to 100 km in just 3.3 seconds and has a top speed of 261 km/hr.
2. Chevrolet Bolt
The Chevrolet Bolt EV is a five-door electric hatchback with seating for five. Drivers looking for compact electric cars will be pleased with this city-sized EV that is surprisingly roomy inside. With an estimated range of up to 417 km fully charged, the Chevrolet Bolt EV is a great choice for both daily driving and day trips. New for 2022, Chevrolet has launched an SUV version of their popular electric car, the Chevrolet Bolt EUV (or Electric Utility Vehicle).
3. Hyundai KONA Electric
The Hyundai KONA is a subcompact crossover SUV available as either a gas-powered or electric vehicle. Introduced in 2019, the Hyundai KONA Electric is equipped with a 201-horsepower electric motor, allowing it to accelerate from 0 to 100 km in just 7.6 seconds. This small electric vehicle offers a range of up to 415 km on a single charge and can achieve an 80% charge in less than an hour with a level 3 charger. 
4. Kia Niro
Available as a hybrid, PHEV or electric car in Canada, the Kia Niro is a compact crossover with seating for five. The 201-horsepower Kia Niro EV was launched in 2019 and delivers a range of up to 385 km when fully charged. The smallest SUV in Kia's lineup, this electric vehicle offers innovative energy-saving features like a regenerative braking system that recharges the battery every time you brake.
5. Tesla Model Y
The versatile Tesla Model Y is an all-electric crossover SUV with seating for up to seven. Drivers looking for electric AWD vehicles will be pleased that Tesla Model Y cars are available with dual-motor all-wheel drive, giving this EV excellent traction and capability in all kinds of weather. The Tesla Model Y Long Range offers an impressive range of 531 km on a single charge while the Tesla Model Y Performance delivers exceptional speed and acceleration.
6. Hyundai Ioniq 
Available as an EV, hybrid or plug-in hybrid, the Hyundai Ioniq is a budget-friendly electric car outfitted with a nice array of driver's assistance features and sustainably sourced interior materials. The Hyundai Ioniq Electric has a range of 274 km range fully charged, so it's better suited to daily driving than long road trips. Looking for a Hyundai EV with more range? The new Hyundai Ioniq 5 offers up to 488 km on a single charge.
7. Nissan Leaf
The first mainstream electric car, the Nissan Leaf paved the way for today's wave of EVs. This compact car gets great reviews for its affordability, comfort and practical hatchback style. The Nissan Leaf launched in 2011, entering its second generation in 2018. When shopping for a used Nissan Leaf, keep in mind that the newer the model, the longer the range. The 2011 Nissan Leaf has a range of up to 160 km, while the 2022 Nissan Leaf offers up to 363 km.
8. Ford Mustang Mach-E
The Ford Mustang Mach-E is an all-electric crossover SUV with comfortable seating for five. Carrying the iconic Ford Mustang name, this EV delivers up to 480 horsepower and thrilling acceleration. Plus, the Ford Mustang Mach-E offers a driving range of up to 418 km on a single charge and can be recharged to 80% battery in just 45 minutes. The available all-wheel drive is great for Canadian weather, providing added traction in challenging conditions.
9. Audi e-tron
The Audi e-tron is a luxury electric vehicle equipped with all the features and capability drivers expect from an Audi. Introduced in 2019, the all-wheel-drive Audi e-tron is a family-sized electric crossover that delivers up to 402 horsepower and 490 lb-ft torque, depending on the model year. This EV SUV has a range of up to 357 km fully charged, recharges to 80% battery in under 40 minutes and can tow up to 4,000 lbs when properly equipped.
10. Tesla Model X
The high-tech Tesla Model X is a luxury electric SUV with unique falcon-wing rear doors and seating for up to seven. This EV's interior is sleek and modern, featuring a 17-inch touchscreen infotainment system, panoramic glass roof and available second-row captain's chairs. The dual-motor Tesla Model X delivers 670 horsepower and a range of up to 560 km, while the high-performance Tesla Model X Plaid comes equipped with three motors, offering a peak power of 1,020 horsepower and a top speed of 262 km/hr.
Find out how long it takes to charge some of the most popular electric cars in the market right now. We've also included a list of the most popular electric family cars-5-electric-vehicles-for-family-of-5/ in the market right now to help you choose the right electric car.
Shopping for electric vehicles on Kijiji Autos
Kijiji Autos offers a huge inventory of new, used and certified pre-owned vehicles for sale across Canada. Use our handy filters to tailor your search to match your wishlist and budget. You can search by a particular make like Tesla or a specific model like the Nissan Leaf, or simply browse all the electric cars in your budget range. Try setting up a saved search and we'll notify you when cars matching your parameters are listed.
Get your car hunt started today on Kijiji Autos.
Easily find your next ride on Kijiji Autos
Search now