10 of the best affordable hybrid vehicles in Canada
By Kijiji Autos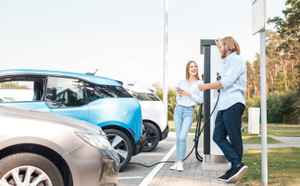 With gas prices and temperatures on the rise, many Canadian drivers are looking for ways to reduce their fuel costs and carbon footprints. Hybrid vehicles could be a fuel-efficient alternative to traditional gas-powered cars. And they can be a wallet-friendly option too, especially with well-maintained used models on Kijiji Autos. While hybrid cars used to be pricier and harder to find, you can now find a great selection of small hybrid cars, hybrid SUVs and plug-in hybrids. For less than $80k, here are 10 of the most affordable hybrid vehicles available in Canada in 2022, in no particular order:
1. Toyota Prius
The first mainstream hybrid car, the Toyota Prius is known for its excellent fuel economy, safety and reliability. Looking for an affordable PHEV in Canada? The 2022 Toyota Prius Prime is a plug-in hybrid with a best-in-class combined electric/hybrid driving range of 1,035 km fully charged.
2. Kia Niro
The smallest SUV in Kia's lineup, this subcompact crossover is available with your choice of three powertrains: the hybrid Kia Niro, the plug-in hybrid Kia Niro PHEV and the all-electric Kia Niro EV. All models offer comfortable seating for five, wireless smartphone integration and front-wheel drive.
3. Hyundai Elantra Hybrid
Introduced in 2021, the hybrid version of the popular Hyundai Elantra makes a great choice for commuting. This compact hybrid sedan offers impressive fuel economy, averaging 4.4 litres/100 km. Standard safety features include forward-collision warning and automatic emergency braking.
4. Toyota RAV4 Hybrid
The best-selling Toyota RAV4 is available as a hybrid or plug-in hybrid. The Toyota RAV4 Prime PHEV delivers a combined driving range of up to 979 km and 302 horsepower. This compact crossover offers family-friendly seating for five and standard all-wheel drive.
5. Ford Escape Hybrid
Comfortable and capable, the Ford Escape is a small SUV with seating for five. Eco-conscious drivers can choose between six hybrid and plug-in hybrid options. The most affordable hybrid model, the Ford Escape SE Hybrid, comes standard with front-wheel drive, heated seats and keyless ignition.
6. Toyota Corolla Hybrid
The cheapest hybrid in Toyota's lineup, the Toyota Corolla Hybrid debuted in 2020. With its self-charging battery, this sedan delivers excellent fuel economy, consuming just 4.5 litres/100 km. Plus, the battery is under the rear seats, providing ample trunk space.
7. Ford Fusion Hybrid
There are hybrid and plug-in hybrid models of the popular Ford Fusion. This midsize sedan seats five in its comfortable and well-appointed interior. Discontinued in 2020, used Ford Fusion hybrids can now be found at discounted prices.
8. Mitsubishi Outlander PHEV
The Mitsubishi Outlander PHEV is a compact hybrid SUV with a battery range of up to 39 km, allowing drivers to run errands on electric power. This plug-in hybrid offers comfortable seating for five, standard all-wheel drive and a suite of safety features like blind-spot monitoring.
9. Ford Maverick
Looking for a hybrid pickup truck? New for 2022, the Ford Maverick comes standard with a 2.5-litre hybrid engine, delivering about 5.6 litres/100 km and an 800 km range. This compact and capable pickup can tow up to 2,000 lbs and haul up to 1,500 lbs.
10. Lexus NX Hybrid
Offering affordable luxury, the Lexus NX300h is a compact hybrid SUV with seating for five, premium interior comforts and standard all-wheel drive. Used 2019 models tend to offer the lowest price points.
Find your next car online with Kijiji Autos. Rather than trekking from dealership to dealership, browse thousands of listings, research models and connect with top-rated car dealers in your area from the comfort of your home or office.
Easily find your next ride on Kijiji Autos
Search now