How to find the best city car
By Kijiji Autos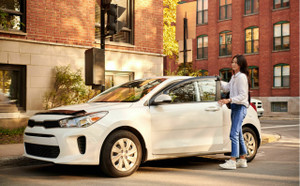 If you're spending a lot on rideshares and public transportation, buying a city car can be a smart and economical decision. Here are five tips for choosing the best city car without breaking your budget:
1. The smaller, the better
Weaving in and out of traffic is never anyone's idea of a good time. And if you live in a city like Toronto, where you have the added challenge of navigating through streetcars, you'll quickly learn that the bigger the car, the harder it is to drive. A small model makes more sense as a city car for many reasons:
Better fuel economy

Nimble handling

Easier to park (and find parking spots)

Better visibility
Consider the Ford Focus, Volkswagen Golf and Chevrolet Bolt.
2. Pick an insurance-friendly model
Your driving record and address are not the only things affecting insurance rates. Some cars just cost more to insure. Here are some factors that might drive up your premium:
Theft record (how often a particular model is stolen)

Horsepower

Luxury cars

Sports cars

Small cars
Take a look at these insurance-friendly vehicles: Toyota Camry, Honda Civic and Volkswagen Jetta.
3. Consider fuel options
No matter which way you look at it, fuel is expensive, especially when you're driving in the city where you get fewer kilometres per litre. Gas prices always fluctuate, but if you're on a budget, buying a fuel-efficient car is not only better for you but also for the environment. Typically, newer cars are more efficient than their predecessors, but that's not always the case. Hybrid or electric cars have higher upfront costs, but you'll be saving a lot more at the pump. 
Browse these fuel-efficient cars: Hyundai IONIQ, Mitsubishi Mirage and Toyota Corolla.
4. Consider used vehicles
Newer is not always better, especially when you can buy a two-year-old certified pre-owned vehicle that gives you all the perks at a fraction of the cost of a new car. There are many models built in the last 10 years that still deliver great value – and yes – you'll find plenty that are loaded with modern safety and technology features. But don't assume that a fancy interior means you're buying a good car. Requesting a CARFAX report will help you determine if the car you're looking at is as good as it seems.
Used cars with great value: Honda Accord, Kia Forte and Honda CR-V
5. Go for a test drive
Test-driving a car before you buy it is not a step you should skip. When taking the car for a spin, pay attention to the brakes, steering and your general comfort level. If the car looks great in the ad but just doesn't feel right, you should keep looking.
The COVID-19 crisis has made it difficult, but not impossible, to test drive the car of your dreams. But you can buy a car while still keeping yourself and your community safe by following our health and safety tips. Maintaining proper social distancing and wearing protective equipment will allow you to schedule your test drives without worry. 
Finding the best city car is easy with Kijiji Auto's advanced safety features that let you narrow down your search, compare models and talk to sellers with confidence. Check out the latest city cars available in your area at Kijiji Autos.
Your well-being is our top priority. Consider whether in-person transactions are necessary and visit our Help Desk for more details and guidance. Follow Kijiji Autos' community safety tips for more advice about confidently connecting with dealers or sellers during COVID-19.
Easily find your next ride on Kijiji Autos
Search now