10 popular work vehicles to consider
By Kijiji Autos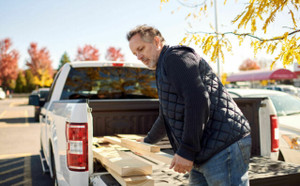 Built to provide rugged strength with a spacious and functional design, work vehicles help you overcome whatever challenges you might face throughout your day on the job site. 
Kijiji Autos makes it easy to browse and search through a wide selection of new and gently used work vehicles, so that you can find an option that you love. This detailed list will outline 10 of our most popular models to help narrow down your options.
1. Ford F-150
Synonymous with power and durability, the Ford F-150 pickup truck is one of the most well-known names available. With a full range of built-in safety and tech features, this performance-minded truck is equally capable of handling industrial tasks as well as city navigation.
The military-grade aluminum-alloy body is available in either a two-door or four-door model to best match the demands of your day-to-day duties. With a maximum payload capacity of up to 3,270 lbs., the Ford F-150 is ready for any job.
Discover it's towing capabilities with the Ford F-150 overview page.
2. Dodge Ram 1500
With a lengthy and proven history of performance, the Dodge Ram 1500 offers exceptional all-around commercial and recreational capabilities. The redesigned 2019 model comes standard with a 3.6 L V6 engine to deliver serious power with improved fuel efficiency. 
Rated at 50,000 psi, the pickup truck's reinforced steel frame is outfitted with strengthened door beams and crumple zones to guarantee durable safety in everything that you do. All models from 2013 onward come standard with a wealth of modern technologies to provide a truly memorable experience.
Learn about the Dodge Ram 1500's full specs. 
3. GMC Sierra 1500
The GMC Sierra 1500 delivers a powerful performance that's comfortable and composed enough to tackle any job with complete confidence. Available in a number of powertrain options with different packages to best match certain jobs, it's easy to find a GMC Sierra 1500 that's tailor-made for your own needs.
Read more about the payload capacity on the GMC Sierra 1500 overview page. 
4. Ford F-250
Building upon the strength of the popular F-150, the Ford F-250 adds significantly more brawn to manage exceptionally tough job conditions. If you're consistently towing and hauling throughout your day, you'll want a full-size pickup with the capabilities of the F-250.
Find out what the full Ford F-250 features are on the overview page. 
5. Dodge Ram 2500
The perfect choice for tradespeople, rural workers, or simply anybody who wants a powerful vehicle, the Dodge Ram 2500 offers an excellent towing capacity with long-lasting durability. Equipped with a comprehensive tech package, this full-size pickup makes it easy to manage speed, fuel consumption and performance without having to take your eyes off the road.
Discover all the trim options on the Dodge Ram 2500 overview page. 
6. Toyota Tacoma
Available in eight unique models with numerous add-ons and packages, the Toyota Tacoma is built for versatility. Combining comfort, power and endurance, drivers will be pleased to note that the compact pickup meets heavy-duty hauling expectations, with a towing capacity of up to 6,400 lbs.
Outfitted with a long list of standard features and a number of user-friendly technologies, the Toyota Tacoma boasts an impressive interior that passengers are sure to appreciate. 
Learn more about its features on the Toyota Tacoma overview page. 
7. Toyota Tundra
Available with a standard V8 engine and spacious rear seats, the Toyota Tundra is a powerful and reliable work vehicle option. The 381-horsepower engine is one of the most powerful base engines in its class.
Particularly large by light-duty standards, the pickup's flatbed ranges from 55 cubic feet up to 81 cubic feet depending on the specific trim. The base SR trim offers drivers a maximum towing capacity of up to 10,200 lbs. and a maximum payload capacity of 1,730 lbs. 
Find out everything you need to know about the specs on the Toyota Tundra overview page. 
8. Chevrolet Colorado
Offering an excellent towing capacity with a comfortable ride, the Chevrolet Colorado is built to withstand the rigours of labour-intensive jobs. Coming standard with a fuel-efficient four-cylinder engine, the compact pickup can be upgraded to either V6 or turbodiesel variants. The spacious interior features comfortable seats as well as a user-friendly infotainment system.
The Chevrolet Colorado's class-exclusive turbo engine makes this mid-size pickup truck one of the most powerful in its class. When properly equipped, the pickup is capable of hauling up to 7,700 lbs.
Discover its power on the Chevrolet Colorado overview page.  
9. Chevrolet Silverado 1500
Featuring a powerful engine with well-balanced handling, the Chevrolet Silverado 1500 ranks among the top of options in the full-size pickup class. Daily tasks can be made easy thanks to the vehicle's generous pickup bed and exceptional fuel efficiency. Drivers will be pleased with the high-strength steel cage, which promises exceptional protection from impact.
Regardless of the generation, the Chevrolet Silverado 1500 is well-reputed thanks to its spacious interior. Newer models go above and beyond expectations, delivering serious leg- and headroom, while even older models offer more room than many competitors.
Explore its spacious cabin on the Chevolet Silverado 1500 overview page. 
10. Nissan Frontier
Available at a much more affordable price point than many of its competitors, the Nissan Frontier is a solid mid-size pickup truck. The vehicle comes in a number of specialized trims to best match your own requirements, ranging from Pro-4x for superior off-road performance to Frontier SV with a spacious King cab.
New models come with the Nissan Intelligent Mobility™ suite to guarantee safety throughout your entire day. The suite includes a wide range of advanced driver assistance features, such as intelligent forward collision warning and blind-spot detection. 
Learn more about the superior tech and safety features on the Nissan Frontier overview page. 
This informative list is designed to help narrow down the options for your new work vehicle. Browse Kijiji Autos to find a wide selection of powerful vehicles capable of getting just about any job done. For more information, our Model Overview Pages give detailed breakdowns of different specs, trims, and features that you can find on any given vehicle.
Your well-being is our top priority. Consider whether in-person transactions are necessary and visit our Help Desk for more details and guidance. Follow Kijiji Autos' community safety tips for more advice about confidently connecting with dealers or sellers during COVID-19.
Easily find your next ride on Kijiji Autos
Search now