Tough vehicles for tough jobs: Mohamed Bouchama's advice on trucks, SUVs, and vans
By Kijiji Autos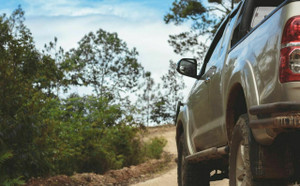 The marketplace offers many different choices when it comes to vehicles designed for hard work. There are traditional pickup trucks with beds designed for heavy payloads and high towing capability. There are vans with spacious cargo areas and flexible seating options. There are even SUVs and crossovers with strong off-road capability to complement their utility. Personally, I am a fan of minivans for their unbeatable combination of utility, flexibility, and affordability. How do you decide which one you should buy?
Whichever type you are leaning towards, Kijiji Autos can help you find the perfect work truck for your needs. The "Hard Work" category in the Search by Category section provides plenty of new and used vehicles to choose from. Here are a few worthy of consideration.
Pickup Trucks
If your work plans include regular hauling and towing, chances are a pickup truck may be the right vehicle for you. Pickups come in both mid-sized and full-sized variants. Consider the type of work you do and what is required of your truck. Are you planning to haul and tow heavy loads on a regular basis? Do you require plenty of storage space? Do you need to carry a few passengers or crew members? If the answer to all of these is yes, a full-sized pickup truck may be the best option. Popular picks include the Ford F-150, RAM 1500, and GMC Sierra. Keep in mind, however, that larger trucks come with larger operating costs, along with challenges in tight urban environments. If you can get by with the hauling, towing, and space of a smaller mid-sized pickup, you'll be rewarded with better fuel economy, greater maneuverability, and easier parking ability. A few popular choices include the Toyota Tacoma, Nissan Frontier and Honda Ridgeline.
Cargo Vans
If you need a work truck mostly for its cargo capability and passenger space, a cargo van may be the best option. Cargo vans are offered in different sizes, each with different cargo capacities depending on your needs. Mid-sized cargo vans offer excellent cargo space for hauling materials without sacrificing car-like fuel economy or maneuverability. They are also usually less expensive to purchase than the larger models. A few popular options include the Ford Transit Connect and the Nissan NV200. They even have passenger variants with three-row seating. Traditional minivans such as the Dodge Grand Caravan or Toyota Sienna are worthy of consideration as well. If maximum space and light towing is needed, a full-sized cargo van is likely the way to go. Popular options include the Chevrolet Express and the Ford Transit.
SUVs and Crossovers
If your work needs include off-road use and regular passengers, an SUV or crossover may prove to be the best option. Many truck-based SUVs include features such as advanced all-wheel drive systems with a low range transfer case, locking differentials, and high ground clearance for tackling tricky terrain and severe weather conditions. Many also offer excellent cargo space with towing capability. A few solid options include the Toyota 4-Runner, Chevrolet Tahoe, and GMC Yukon. If your off-road and towing requirements are not as significant, consider a more user-friendly crossover such as the Honda Passport, Nissan Pathfinder or Toyota Highlander. These offer a more car-like driving experience with plenty of cargo space, along with some towing and off-road capability as well.
Work vehicles come in many different shapes and sizes. It is important to choose one that fits your needs and requirements without going overboard on size, capability, and price. When it comes time to purchase, you may want to consider a service such as Car Help Canada, whose team of expert consultants can offer advice, recommendations, and help you get a great deal with additional discounts on your new vehicle purchase. I've personally helped thousands of consumers with their vehicle purchase with the goal of saving them time and money.
Whichever way you go about your shopping experience, Kijiji Autos has the tools to help you narrow down your choice and select the right vehicle for your needs.
Mohamed Bouchama is a consultant for the non-profit organization, Car Help Canada.
Easily find your next ride on Kijiji Autos
Search now