Top cars for first-time buyers
By Kijiji Autos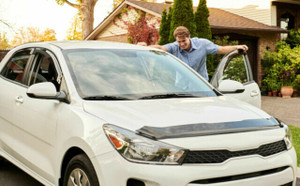 Are you looking to buy a car for the first time? Kijiji Autos can help you narrow down your search. Check out these top 10 popular cars for first-time buyers:
1. Honda Civic
There's a reason the Honda Civic has been the best-selling car in the country for the last two decades: It's reliable, affordable, cheap to maintain and loaded with safety features.
For more details on specs, check out the Honda Civic overview page.
2. Toyota Corolla
The Toyota Corolla is a popular first car because of its incredible value. Your money goes a long way with this model, whose entry-level trim comes with lots of safety features and a low-emission fuel engine.
Check out the Toyota Corolla overview page for more tech and safety features.
3. Volkswagen Jetta
Known for its high safety ratings, the Volkswagen Jetta has been a popular choice for seven generations. Perfect as a city or family car, the Volkswagen Jetta offers a comfortable and functional interior.
Check out the Volkswagen Jetta's overview page to learn more about its infotainment system.
4. Mazda 3
The Mazda 3 is the perfect choice for first-time buyers looking for a fun and sporty vehicle. More recent models offer substantial safety packages with an infotainment system that comes with Apple CarPlay and Android Auto.
Head over to the Mazda 3 overview page to learn more about its sporty handling.
5. Toyota Camry
For drivers who value comfort and safety, this midsize sedan is an excellent choice. The Toyota Camry gives drivers plenty of options, with five trims and three exciting engines, including a hybrid.
Check out the Toyota Camry overview page to read about all of its standard and optional safety features.
6. Honda Accord
The Honda Accord is an excellent family car for first-time car owners. With a spacious and polished interior and an optional V6 engine, the Honda Accord offers lots of bells and whistles for a reasonable price.
Learn more about its technology on the Honda Accord overview page.
7. Nissan Altima
The Nissan Altima is a sizeable midsize sedan that offers a wealth of safety features and in-car technology, such as Apple CarPlay and Android Auto. Spacious front and back seats also make this perfect for urban families.
Learn about its Safety Shield Technology on the Nissan Altima overview page.
8. Hyundai Elantra
First-time drivers flock to the Hyundai Elantra thanks to its low price tag, comprehensive warranty and loaded tech features. This model has extended safety aids to help new drivers feel confident behind the wheel.
Discover its long list of in-car technology on the Hyundai Elantra overview page.
9. Ford Focus
The Ford Focus gets full marks for safety and fuel efficiency. First-time buyers will enjoy the spacious interior, infotainment system and standard backup camera. Plus, you get to choose between a sedan or hatchback model.
Get all the specs at the Ford Focus overview page.
10. Nissan Sentra
The Nissan Sentra is a smart choice for first-time drivers thanks to its user-friendly controls and great reliability. The compact sedan is great for city driving while still giving you the space you need for longer trips.
Check out its tech and safety specs on the Nissan Sentra overview page. 
Ready to buy your first car?
Kijiji Autos lets you shop with confidence from the comfort and safety of your own home. When test-driving your first car, be sure to follow our coronavirus community safety tips.
Besides added safety, the benefits of shopping for a car online are endless, and it's now easier than ever to complete the buying process online. Start shopping for your first car on Kijiji Autos.
Easily find your next ride on Kijiji Autos
Search now