What you should know about these 10 popular wagons
By Kijiji Autos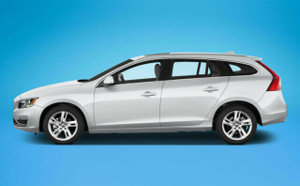 If you are looking to buy a wagon, explore Kijiji Autos list of these popular models, and the features that make them a great choice for your next car. This list is in no particular order and will help you easily choose between great wagons, whether you're looking for luxury, affordable, small size, all-wheel drive or even just good-looking wagons.
These are the best features of 10 popular wagons:
1. Toyota Venza
If safety is your main concern, the Toyota Venza has earned a high overall safety rating from the NHTSA. While no longer in production, they are still available for purchase.
Explore the Toyota Venza and its safety features.
2. Subaru Outback
The Subaru Outback is a 4x4 vehicle that is versatile enough to go on an off-road adventure yet provide a comfortable on-road ride. 
Check out the Subaru Outback and its versatile functions.
3. Volvo V60
Entertainment technology includes a computer and WiFi. This makes the Volvo V60 great for long rides with the kids.
Explore the Volvo V60 and its entertainment tech.
4. Porsche Panamera
This luxury hybrid offers navigation, as well as GPS. Soak in the leather interior and light from the sunroof and moonroof. 
Explore the Porsche Panamera and its luxurious interior.
5. BMW 3 Series
The BMW 3 Series wagon has standard driver-assist systems and a collision warning system to make driving easier.
Check out the BMW 3 Series and its easy drivability
6. Toyota Prius V
Just activate the push-button starter, consult the navigation system and you're on your way to a fun driving experience!
Check out the Toyota Prius V and its navigation system.
7. Audi A4
A spacious interior includes 3 climate zones, a multifunction steering wheel and electronically adjusting front seats.
Explore the Audi Aand its impressive interior features.
8. Volkswagen Golf
A brake assist system, electronic traction and stability control make you feel safe behind the wheel of the Volkswagen Golf.
Check out the Volkswagen Golf and its safety features.
9. Toyota Matrix
Family-friendly features include anchor points for child restraint seats and child-safety rear door locks.
Explore the Toyota Matrix and its impressive safety features.
10. Subaru Impreza
Driving is more comfortable with Impreza's heated seats and its Bluetooth hands-free capabilities!
Check out the Subaru Impreza and its comfort-enhancing features.
To save money, buying a used wagon is the way to go. If you want to buy with even more confidence, consider a certified pre-owned car, where you will get a manufacturer guarantee of the car's condition.
Kijiji Autos is here to help, whether you need some guidance, or you already have a good idea of what you want. You can connect with a dealer today, with confidence. Kijiji Autos provides resources and tools that make it easy, like clicking a button to call or message, or providing maps to show dealer locations near you.
Kijiji Autos also offers detailed dealer reviews, instant price analysis, estimator car mileage analysis and advice that you can count on – all at your fingertips. There are many wagons to choose from, vehicles that offer both excellent value for your money plus all the features you're looking for. This list above can help you narrow down your choice. For even more help with your decision, check out Kijiji Autos overall listing of wagons.
Your well-being is our top priority. Consider whether in-person transactions are necessary and visit our Help Desk for more details and guidance. Follow Kijiji Autos' community safety tips for more advice about confidently connecting with dealers or sellers during COVID-19. 
Easily find your next ride on Kijiji Autos
Search now