9 popular coupes in Canada
By Kijiji Autos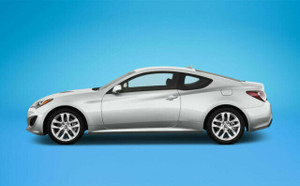 Sporty and sleek, the coupe is a popular two- or four-door car that puts the fun back into driving. Fuel-efficient and compact, this body style is designed for performance. Are you looking for a coupe for sale near you? In no particular order, here is a list of 9 popular coupes in Canada, courtesy of Kijiji Autos:
#1: Fiat 500
The Fiat 500 is a sporty and retro little two-door coupe that's great for city driving. It has a lot to offer in terms of advanced safety features and a user-friendly infotainment system.
Learn about its zippy, fun handling at the Fiat 500 overview page.
#2: Hyundai Genesis Coupe
The Hyundai Genesis is a powerful sports coupe with an easy-to-use infotainment system and responsive handling. While four seats are available, this model is more comfortable for the front row passengers.
Check out its engine options at the Hyundai Genesis Coupe overview page.
#3: Dodge Challenger
The Dodge Challenger is a classic muscle car with an eye-catching design. Built for highway driving, the Dodge Challenger's roaring V8 engine and sleek silhouette is bound to attract attention.
Take a look at its 16 different trim lines on the Dodge Challenger overview page. 
#4: Ford Mustang
An iconic coupe model in history, the Ford Mustang is a powerful six-speed manual coupe that sticks out on the road. Loaded with tons of safety features and standard technology, the Ford Mustang promises to serve your need for speed, no matter what generation it is.
Find out what's under the hood at the Ford Mustang overview page. 
#5: Scion FR-S
The Scion FR-S is as nimble as it is comfortable. Its sporty coupe design and upscale interior make it the perfect weekend car for two. Its standard rear-wheel drive also makes it surprisingly capable of driving through wintery roads.
Take a look at the Scion FR-S overview page to learn about its impressive safety ratings. 
#6: Subaru BRZ
The Subaru BRZ fastback is a two-door, four-seater performance sports coupe with excellent handling. Its six-speed manual transmission is a bonus for driving enthusiasts who are looking for something with a lot of horsepower without the high-end price tag. 
Learn more about its responsive handling at the Subaru BRZ overview page.
#7: Honda Civic
The Honda Civic is perhaps the most practical and family-friendly coupe model on this list. It's four-door, five-passenger layout makes it a great family car, and its long track record for safety and affordability make it a worthy investment.
Learn more about its interior styling options at the Honda Civic overview page.
#8: Chevrolet Camaro
The Chevrolet Camaro is a beastly sports coupe with a powerful engine that loves highway driving. The Chevy coupe's sleek exterior and easy infotainment system make it a design marvel from the inside out.
Check out its safety features at the Chevrolet Camaro overview page.
#9: Smart ForTwo
Parking won't be a problem with this subcompact coupe. With room for just one extra passenger, the Smart ForTwo makes a lot of sense for casual driving throughout the city. Expect excellent fuel economy and sharp design in this pint-sized coupe.
Take a look at the different trim levels on the Smart ForTwo overview page.
Shop for the best coupes on Kijiji Autos
Our advanced search filters help you find dealers offering services such as home delivery and online purchasing. Use our detailed dealer reviews, free payment estimator, and vehicle overview pages to help you find the car of your dreams and confidently connect with dealers. Start your search for these popular coupes in your area.
Your well-being is our number one priority. Consider whether in-person transactions are necessary and visit our Help Desk for more information and guidance on how to trade or buy safely.
Easily find your next ride on Kijiji Autos
Search now