How to choose your first car
By Kijiji Autos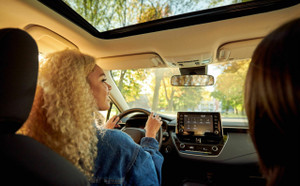 Buying your first car can be a smart and economical decision. But how do you choose the best first car that fits both your lifestyle and your budget? Read this simple guide from Kijiji Autos:
1. Consider the cost
Owning a car costs a lot more than just the vehicle itself. If you've been saving for a new ride, don't forget to include the cost of registration, maintenance, gas and insurance. 
Parking in some places is no small fee either. The cost of an underground parking spot in downtown Toronto and Vancouver can be as high as $50,000. Street parking is always available, but don't forget to factor in the cost of the permit. 
2. Think long term
So, you want to buy a car, but you're also thinking about starting a family. And while it's just you and your significant other at the moment, you might want to consider looking at models that can accommodate a new family member. In fact, deciding to become a car owner is often motivated by this lifestyle change. Picking a family car, such as an SUV, full-size sedan or minivan might make more sense. 
3. Pick a car that fits your lifestyle
What do you want the car for? Do you have to haul heavy-duty gear from worksite to worksite? A pickup truck might suit you best. Do you plan on using your vehicle for weekend shopping sprees and occasional family visits to the suburbs? Then perhaps opt for a snazzy city car. Deciding how you're going to use your car should tell you what kind of body is the most suitable for you. 
4. Change your mindset about used cars
Even if you can afford to buy a brand-new model, there are many reasons to consider buying used. Purchasing a two or three-year-old certified pre-owned model gives you all the benefits of a new car (including warranties) but at a much lower cost. 
On the other hand, buying a used car just for the sake of spending less money might be a false economy if the car you buy ends up at the mechanic's garage five times a year. Some due diligence is necessary when determining whether or not a car is worth it. A CARFAX report, which gives you the vehicle's history, can really help.
5. Don't rely on specs alone
Kijiji Autos can help you shop for your first car with confidence with our easy-to-use advanced search options that can help you connect with a dealer today. We've accumulated all the essential information you need to compare models, reach out to sellers and find the best price for the car you want. 
The only thing we can't do is to test drive the vehicle for you. While the car you're looking at looks good on paper, nothing is more telling than getting behind the wheel and taking it for a spin. Specs can tell you a lot, but they can't tell you how a car feels to drive.
Your well-being is our top priority. Consider whether in-person transactions are necessary and visit our Help Desk for more details and guidance. Follow Kijiji Autos' community safety tips for more advice about confidently connecting with dealers or sellers during COVID-19.
Easily find your next ride on Kijiji Autos
Search now