Go green with these 10 popular electric trucks
By Kijiji Autos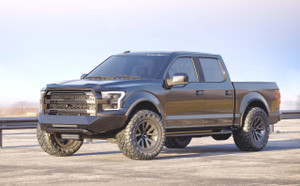 Concerns about the environment have resulted in more people choosing an electric vehicle (EV) for the future and then finding savings on fuel costs. Fully electric vehicles are powered by an electric motor and battery. With no fossil fuels needed, there are no tailpipe emissions and less environmental impact.
There is such a demand for eco-friendly vehicles that even electric trucks are being manufactured in 2021. Not electric RC trucks or electric semi-trucks, but electric pickup trucks for commercial and personal use.
Factors that go into the choice of electric pickup trucks are their range and access to charging stations. Range is how far electric trucks will go on a charge. Innovation has electric cars going up to 200 to 250km on a charge.
There are over 5,000 electric vehicle charging stations in Canada, and as electric trucks in Canada become more popular, more charging stations will follow. Future electric cars are sure to go farther and have more options for charging.
If you're looking for an electric truck, Kijiji Autos can help. We have the kind of resources and tools to help you find the truck you want, no matter what level of knowledge you have.
Want to know which electric trucks are on the market? Here are 10 popular electric trucks, in no particular order:
1. GMC Hummer EV
The GMC Hummer EV will be available in late 2021, and in the fall of 2022 for other models. The GMC Hummer EV is powered by the all-new Ultium battery technology, giving great performance both on and off-road. There is also power from Ultium Drive - GM's special EV drive units. Together, they generate a (GM-estimated) best-in-class 1,000 horsepower and 11,500 lb-ft of torque. There are three separate motors within the two Ultium drive units, giving it four-wheel drive power.
2. Ford F-150 Lightning
Ford has come out with an electric version of the Ford F-Series, a best-selling pickup truck in Canada for over a decade, with a design that doesn't differ greatly from the original. The Ford F-150 Lightning will have two motors to power the front and back wheels, providing 775 lb-ft of torque and 563 horsepower. There is plenty of power and a battery range at 480km.
3. Chevrolet Silverado
Not much is known about the electric Chevrolet Silverado except that the pickup will have a 640km range. It will be assembled in the same factory as the GMC Hummer EV and will also feature the GM Ultium battery packs. GM's goal is that all their passenger vehicles go electric by 2035, with the Chevrolet Silverado being available in 2023 or 2024.
4. GMC Sierra EV
The GMC Sierra EV will be assembled with GM Ultium battery packs. There is no information about what the different capacity levels may be on the Ultium battery, but it is believed there will be a choice of battery sizes, which may offer the range of 200 to 400 miles on a charge. There is no official date for availability, but it is expected by 2023 or 2024.
5. Tesla Cybertruck
Production for the Tesla Cybertruck is set for late 2021. It has a futuristic, angular design and comes in three different versions, depending on your towing capacity and range needs. The range varies from 400 to 800km, with a towing capacity between 3,402 to 6,350 kilograms. The versions consist of a single-motor rear-wheel-drive model, a dual-motor all-wheel-drive model and a tri-motor all-wheel-drive model that goes from 0-to-100km/h in under three seconds.
6. Rivian R1T
The Rivian R1T went into production in September of 2021. This makes the start-up Rivian company the first to get their electric pickup truck out into the competitive market. This early Launch Edition has a 300-mile range. In the 2022 version, all-wheel drive is standard, with each wheel powered by its own electric motor. It has up to 800 horsepower and a 0-to-60-mph time of 3.0 seconds.
7. Ram 1500 EV
Automaker Stellantis is expected to start production of the Ram 1500 EV in 2024. Stellantis is using four Battery Electric Vehicle platforms: STLA Small, STLA Medium, STLA Large and STLA Frame, with ranges of 300, 440, and 500 miles respectively. The Ram 1500 EV has the 500-mile STLA Frame platform. Three electric drive modules provide power and can be configured for front-drive, all-wheel drive and 4xe, for a plug-in hybrid model.
8. Bollinger B2
Bollinger Motors is producing this boxy and distinct-looking heavy-duty electric pickup truck. The flat-bed trunk area can hold 16-foot cargo when the passthrough is open, with a payload capacity of 5,000 pounds. More storage capacity is in the "frunk" or trunk in front. The towing capacity is up to 3,402 kilograms with 614 horsepower. This is another truck that has good off-roading capacity. The range is 320km.
9. Lordstown Endurance
This electric truck is the first vehicle to be produced by American startup Lordstown. It claims to have a range of about 250 miles, with 600hp produced by a hub-motor system, and can tow up to 6000 pounds. It has four-wheel drive with an electric motor mounted directly in each of the truck's wheels, reducing the number of moving parts, improving reliability and making it less expensive to maintain.
10. Canoo Pickup
The Canoo Pickup will feature an extended-cab 2+2 layout with a six-foot bed that can extend to eight feet and can haul up to 1,800 pounds. A rear-mounted 300hp and 332-lb-ft motor will provide the power. All-wheel-drive versions will have up to 600hp and 550 lb-ft because of an additional front motor. Its 80-kWh battery gives a range of about 200 miles in the dual-motor version.
Kijiji Autos lets you connect with a dealer and ensures you have the right information so that you can buy with confidence and help make the right decision for you.
Easily find your next ride on Kijiji Autos
Search now