A quick guide to van life: 10 of the best vans to live in
By Kijiji Autos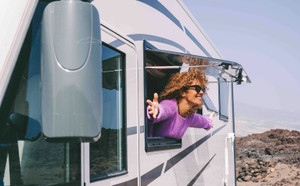 Dreaming of a simpler life? Love travelling but hate sleeping in a different bed every night? Maybe it's time to embrace #vanlife, a lifestyle trend that answers the call of the open road. Living in a van may sound a bit basic, but converted vans make surprisingly comfortable (and potentially luxurious) homes on wheels.
Plus, they're easier to park and more fuel-efficient than a traditional RV. Whether you're looking for a place to live, a weekend camper or a vehicle to travel across Canada in, van life offers freedom, affordability and adventure. Plus, life on the road can be downright fun.
Find your dream van on Kijiji Autos
From cargo vans to converted skoolies, classic VW buses to state-of-the-art campers, there's a fantastic variety of #vanlife vehicles to choose from on Kijiji Autos. Not sure which is right for you? Here are 10 of the most popular van life vehicles in Canada:
1. Mercedes-Benz Sprinter Van
Known as one of the best van life vehicles, not just in Canada but worldwide, the Mercedes-Benz Sprinter Van can be transformed into a practical and attractive camper. This versatile cargo van is available in a variety of configurations and heights, with high-roof models a popular choice among tall van lifers. 
2. Ford Transit
The highly customizable Ford Transit is a full-size van available in both cargo and passenger van configurations. Depending on the model year, options include three lengths, three heights, a gas or diesel engine, and rear-wheel or all-wheel drive. Newer models come equipped with a suite of advanced safety features, helping to keep you safer on the road.
3. RAM ProMaster
RAM ProMaster cargo and passenger vans are available in two heights and three lengths, allowing you to choose a size and configuration that fits your needs. This van is wide enough to fit a full-sized bed across its width, saving valuable living space. All models are equipped with front-wheel drive, offering good maneuverability and easier parking.
4. Ford E-Series
The Ford E-Series is a full-size work van that was discontinued in 2014, making it a budget-friendly choice for DIY conversion projects. Also known as the Ford Econoline, Ford E-Series vans like the Ford E-350 and Ford E-150 are durable vehicles with powerful engines, offering excellent towing capacity. They also make great stealth campers.
5. Chevrolet Express
Available in cargo van and passenger van styles, the Chevrolet Express has been around since 1996, making it easy to find affordable used models for sale. Drivers looking for a van they can stand in may find the roof on this full-sized van a bit too low, but it does offer plenty of space for sleeping and storage. Both gas and diesel models are available.
6. GMC Savana
The GMC Savana is essentially the same van as the Chevrolet Express, just sold under a different name. Like its Chevrolet twin, this full-size van is simple yet powerful, offering excellent towing capacity and up to 400 horsepower. Van lifers looking for a discreet camper conversion often consider a work van like the GMC Savana.
7. Nissan NV200
The Nissan NV200 offers the look and versatility of a cargo van with a smaller footprint. This compact cargo van offers excellent fuel efficiency, easy handling and is comfortable navigating city streets. With its two sliding side doors, wide-opening rear doors and a decent amount of cargo space, this van is a good choice for part-time van life camper conversions.
8. Ford Transit Connect
The Ford Transit Connect is a compact van available in both cargo and passenger configurations. It was introduced in 2010, so you can find a good selection of older models on Kijiji Autos for under $10,000, making this affordable van a great choice for DIY camper builds. Newer models offer features like pre-collision warning, blind-spot monitoring and smartphone integration.
9. Dodge Grand Caravan
Spacious and reliable, the Dodge Grand Caravan is a popular choice for car camping and long road trips. Models from 2005 onwards have Stow 'n Go seats that fold into the floor, instantly creating plenty of space for a bed. This minivan seats seven, allowing it to do double duty as a family vehicle and camper.
10. Toyota Sienna
Another popular family minivan, the Toyota Sienna is well-liked in the van life community for its reliability, practicality and spacious interior. The long body of this minivan provides plenty of interior space, while a flat roof is ideal for extra cargo or solar panels. All-wheel drive is available on models from 2014, and a hybrid option was introduced in 2021.
Get inspired by Canadian #vanlife influencers
Looking for a little inspiration? The #vanlife tag on Instagram is filled with useful advice for living in a van, interior ideas for van conversions and travel tips that will have you packing up and hitting the road. Check out some Canadian van life Instagram accounts to get a feel for the possibilities (and limitations) from people living in a van in our climate:
Find budget-friendly used vans to convert yourself, bespoke custom campers and unique vintage vehicles with unmatched style.
Easily find your next ride on Kijiji Autos
Search now