The World's Most Searched Electric Cars
By Kijiji Autos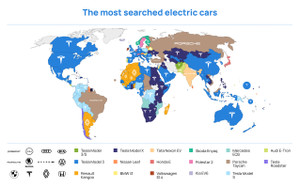 When it comes to EVs, some 550,000 users across the globe search for "electric car" each month, accounting for one search every five seconds. In Canada alone 27,100 Google searches take place each month - a 23% increase in the last 12 months, and at Kijiji Autos, we've seen searches rise 97% from Q4 2020 to Q4 2021.
With electric cars becoming more popular in recent years with the production of multiple makes and models coming to market, the demand for EVs is getting stronger. 
Our latest research into the world's most searched electric cars looks beyond well-known brands such as Tesla, and delves deeper into the specific models car lovers across the globe want to find out more about. 
We analyzed 188 countries, and 104 electric car makes and models using Google search data from the past 12 months to map which brands dominate in countries across the globe.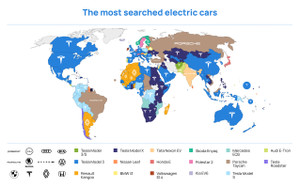 Our research revealed Tesla dominates four out of the five top spots worldwide, with Model 3 proving most popular with 2,319.060 monthly searches, followed by models S, X and Y. In fact, Tesla reigned supreme in 133 out of the 188 countries analyzed. In fifth place was Porsche's Taycan with an average of 1,034,000 monthly searches and topping Google searches in 16 countries. 
Tesla Model 3 was the most searched electric vehicle overall in 5 out of the 6 continents analyzed with Australia/Oceania favoring newcomer Polestar 2. 
Despite the strength of Tesla, Renault Kangoo (10 countries), Nissan Leaf (7 countries), Audi e-tron (5 countries), Skoda Enyaq (4 countries), Mercedes EQS (3 countries), BMW i3 (2 countries) and the Tata Nexon EV (1 country) all appear in the most searched electric vehicles.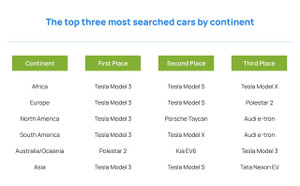 Tesla first to the finish line in race to the top
With an aim to start a cleaner transport revolution away from combustion engine cars, American electric vehicle and clean energy company, Tesla, continues to dominate the electric vehicle market. Known for its sleek design and cutting-edge technology, Tesla is spearheading the charge to bring electric cars into the mainstream. 
Its latest car, Model 3, may be its cheapest and smallest offering to date, but it is by no means a lesser model than others on the market. Boasting bluetooth keyless entry, autopilot mode and all-glass roof, the Model 3 dominated 69% of the 188 countries we analyzed. 
Which countries are adopting electric cars the fastest?
Our research into year over year Google search data has found Australia to be the country whose interest has increased the most in the last 12 months, with an annual increase in searches of 50% - 1% more than global searches - while the UK accounts for a fifth of all global searches.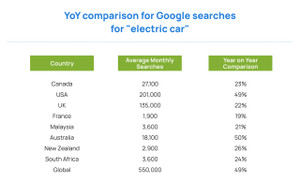 EV Newcomers are picking up pace
The car industry is packed with big brands with long histories, but the newness of the electric vehicle market has allowed start up brands such as Rivian, Nio and VinFast to dominate the headlines. Online searches for these brands are growing at a tremendous rate - 50%, 22% and 82% respectively, suggesting a growing interest in start up brands within the electric vehicle market. 
A list of all top searches per country can be found here.
Methodology
Google search data (searching all languages) was used to establish the average monthly search volume in each country for a list of 104 electric car makes and models. The most searched for make and model was then used as the top car for that country. The most popular cars by continent and globally were decided by the cars that had the most search volume. Data was collected in December 2021.
Easily find your next ride on Kijiji Autos
Search now