Everything you Need to Know About the Chevrolet Silverado 1500
By Kijiji Autos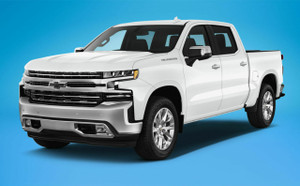 If you are looking for a pickup truck for work, there are some things that you will want to look out for, depending on the job it has to do.
You will want the truck to have the hauling abilities and maximum towing capacity to meet your needs.
You also have to consider how much space you need, not just for cargo and gear, but for any passengers you may have.
The Chevrolet Silverado 1500 is a pickup truck that has features that you will want in a pickup truck. Here are some of those features, in no particular order:
Safety:
You can feel secure in a Chevrolet Silverado 1500. The National Highway Traffic Safety Administration, an agency of the U.S. federal government, gives the Chevrolet Silverado 1500 an overall safety rating of 5 out of 5.
Some of the safety features include an anti-lock braking system, a brake assist system, electronic traction control and stability control with airbags for the front driver, passenger and a side curtain airbag.
Power:
The Silverado 1500 towing capacity is 13,400 pounds, with a payload of up to 2,543 pounds. It has this power because it has a high-strength steel frame and high-end towing features.
Interior:
All Silverado 1500s have power steering and ISOFIX installation points for the safe and easy attachment of child safety seats.
The 2020 Chevy Silverado 1500 and other newer vehicles have a heads-up display, so that you can easily see speed and navigation information on the windshield.
Technology:
The Silverado 1500 has a fuel management system that optimizes the use of engine power so that you save on fuel consumption.
The technology available in all Silverado 1500s are rear sensors and a rear-view camera to make backing up easier, with hill start assist, to keep your truck from rolling backward when you're stopped on a hill.
In addition, passengers can be entertained by radio, Android Auto, Apple CarPlay and Bluetooth, with a USB port for front passengers.
Space:
The interior of the Silverado 1500 offers generous space, whether you need it for passengers or to store gear. There is storage under and inside the rear seats, as well as a compartment in the center console in the front.
The Chevrolet Silverado 1500 is reliable, and a popular choice in Canada for both work and family use. It has good fuel economy, especially with the Silverado 1500 diesel, which offers the superior fuel efficiency of diesel.
Shop for a Chevrolet Silverado 1500 on Kijiji Autos, and contact a dealer today, and learn more about how the Chevrolet Silverado 1500 is right for you! 
Your wellbeing is our top priority. Trade with care and please visit our Help Desk or Health Canada to learn more.
Easily find your next ride on Kijiji Autos
Search now