Toyota Corolla VS Honda Civic: Which First Car is Right for you?
By Kijiji Autos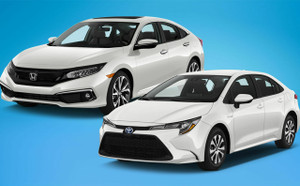 There are many things to consider when you are going to buy your first car. It has to fit your budget, yet be comfortable and safe. You have narrowed down your vehicle search, and you have to ask: Which is better for my needs, the Honda Civic or Toyota Corolla? Here is information you will need in the Honda Civic vs. Toyota Corolla debate.
1. Both are affordable and offer value
Both the Honda Civic and the Toyota Corolla are economical to buy at the outset and offer value. Comparison between Honda Civic and Toyota Corolla fuel economy shows the Toyota Corolla offers a little more fuel economy and the EPA fuel economy numbers of the Honda Civic don't match its real-world fuel economy.
2. Both offer a choice of body type
Both the Honda Civic and the Toyota Corolla have a sedan body type. They also both have hatchbacks body types as well. The Toyota Corolla hatchback is called the Toyota Corolla iM. When looking at the Corolla iM vs Civic hatchback, the Corolla iM hatchback has 18 cubic feet of cargo space behind its back seat, but there is something limiting in the setup of the space because the amount of cargo that it holds is limited.
The interior cubby storage is limited as well, especially when compared to the Honda Civic. However, more space can be found in a tray at the front of the center console, and a bin below the armrest.
The Honda Civic sedan offers a good amount of space, but if you need more space, the Honda Civic hatchback will provide it.
If you're looking for something that is a little more stylish, the Honda Civic comes in a coupe body type. The trade-off for style is that the back seats are very small and not family-friendly. The Toyota Corolla does not offer a coupe body type.
3. Both rate highly for safety
When you compare 2017 Honda Civic and Toyota Corolla sedans, for example, both do very well in the safety category. Both received a five-star overall safety rating out of a possible five stars from the National Highway Traffic Safety Administration, though it should be noted that while the 2017 Toyota Corolla received the overall score of five stars, it scored four stars only in the frontal crash and rollover tests. They both continue to offer many safety features that make them safe.
Both the Honda Civic and the Toyota Corolla make great first cars. The Honda Civic has been a Canadian bestseller for 20 years, and the Toyota Corolla is known to be reliable and offers good safety and technology for its price range. Your decision may come down to small style details and personal taste.
If you want to find out more about the Honda Civic and the Toyota Corolla, check out Kijiji Autos. Shop on Kijiji Autos and contact a dealer today.
Your well-being is our number one priority. Consider whether in-person transactions are necessary and visit our Help Desk for more information and guidance on how to trade or buy safely.
Easily find your next ride on Kijiji Autos
Search now