Which 7 seater SUV is made for you: Mercedes-Benz GLB or Audi Q7?
By Kijiji Autos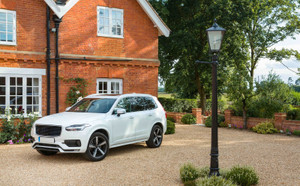 Drivers looking for a three-row luxury SUV are often interested in the Audi Q7 and the Mercedes-Benz GLB. These seven-passenger luxury vehicles offer attractive exteriors, family-sized interiors and plenty of premium features. You can find affordable new and used Audi Q7 and Mercedes-Benz GLB models for sale in your area right here on Kijiji Autos.
Not sure which model is right for you? To help you decide, here's a head-to-head 7 seater SUV comparison of the Audi Q7 and the Mercedes-Benz GLB:
Is the Audi Q7 bigger than the Mercedes-Benz GLB?
When doing a Audi Q7 vs. Mercedes GLB size comparison, it's important to note that these two cars actually belong in different classes. The Audi Q7 is a midsize luxury SUV, while the Mercedes-Benz GLB is a compact luxury SUV. The Audi is, therefore, considerably larger and longer than the Mercedes-Benz. In terms of passenger capacity, the Audi Q7 is a true seven-seater SUV, offering three comfortable rows of seating. The smaller Mercedes-Benz GLB comes standard with seating for five and an optional third row is available, boosting passenger capacity to seven. 
For both vehicles, third-row seating may be a bit tight for adult passengers. The Audi Q7 and the Mercedes-Benz GLB offer a comparable amount of versatile cargo space thanks to folding rear seats, though the Audi does have a slight edge here as well.
Is the Mercedes-Benz GLB more powerful than the Audi Q7?
In Canada, there are two Mercedes-Benz GLB-Class models to choose from. The Mercedes-Benz GLB 250 4MATIC comes equipped with a turbocharged 2.0-litre four-cylinder engine, delivering 221 horsepower and 258 lb-ft of torque. The high-performance Mercedes-Benz AMG GLB 35 offers 302 horsepower, 295 lb-ft of torque and can accelerate from 0-100 km in just 5.2 seconds. Both models have standard all-wheel drive and a dual-clutch eight-speed automatic transmission. 
The Audi Q7 2022 is available with your choice of two engines. 45 TFSI models feature a 248-horsepower turbocharged 2.0-litre four-cylinder with 273 lb-ft of torque, while 55 TFSI models are equipped with a 335-horsepower 3.0-litre V6 engine with mild hybrid technology. Audi Q7 models offer standard Quattro all-wheel drive and an eight-speed Tiptronic automatic transmission.
Does the Mercedes-Benz GLB have better features than the Audi Q7?
When shopping for a 7 seater luxury SUV, many drivers want to know what kind of premium comfort and convenience features are available. The Audi Q7 interior is comfortable and modern, offering standard features like leather upholstery, tri-zone climate control, power-folding heated mirrors and a power liftgate. Available features include a 23-speaker Bang & Olufsen audio system, ambient interior lighting and massaging front seats. 
The Mercedes-Benz GLB interior is spacious and elegant with standard features, including dual-zone climate control, power-adjustable front seats, panoramic sunroof and a seven-inch touchscreen infotainment system with voice recognition. Optional features include heated and ventilated leather seats, 64-colour ambient interior lighting and in-car Wi-Fi.
Which SUV is safer: the Audi Q7 or the Mercedes-Benz GLB?
The Mercedes-Benz GLB is a fairly new vehicle, having launched in 2020, so all models available on Kijiji Autos will offer up-to-date safety features. This 7 seater Mercedes SUV has a five-star overall safety rating and features a suite of seven airbags. Standard safety technologies include automatic emergency braking with pedestrian detection, downhill speed regulation and rain-sensing windshield wipers. Available driver's assistance aids include blind-spot monitoring, traffic sign and speed limit assistance, a 360-degree camera system and parking assistance.
The Audi Q7 debuted in Canada back in 2007, so available safety features will depend on the model year. The 2022 Audi Q7 is equipped with eight airbags and comes standard with blind-spot monitoring, forward-collision warning with automatic emergency braking, lane-departure warning and front and rear parking sensors.
Ready to start shopping?
Browse Kijiji Autos for new and used Audi Q7, Mercedes-Benz GLB and other luxury SUVs in your area and across Canada.
Still not sure which car is right for your family? Visit our model research hub to learn about other popular 7 seater SUVs in Canada, like the Toyota Highlander.
Easily find your next ride on Kijiji Autos
Search now