What Makes the Subaru Impreza so Practical
By Kijiji Autos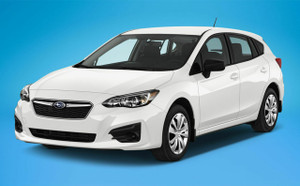 The Subaru Impreza is known to be a reliable car that offers safety and comfort but here is what you need to know about the Subaru Impreza:
1. The Subaru Impreza is a good choice for a commuter car
There are reasons why the Subaru Impreza is a good commuter car. First, it is reliable. It will stand up to the amount of driving that commuting demands. Your drive will be comfortable and relaxed, thanks to the support of ergonomic seats found in the models from 2016 onward. Since the Subaru Impreza introduced the USB port and Bluetooth as standard in 2013, the in-car infotainment system has continued to improve.
The full-time all-wheel drive and well-engineered control-arm suspension in both the sedan and hatchback results in a smooth ride regardless of road conditions. A stabilizer bar mounted to the rear of the body adds comfortable handling.
2. The Subaru Impreza has impressive safety features
The Subaru Impreza has a five out of five safety rating from the National Highway Traffic Safety Administration (NHTSA). In addition, it comes standard with an anti-lock braking system (ABS), which helps control the car when there is skidding and has seven airbags should there be an accident.
The EyeSight driver-assist system was introduced in 2019. It uses two cameras and multiple sensors to automatically keep the vehicle in its lane and a safe distance from other cars. A standard rearview camera aids drivers in backing up safely.
3. The Subaru Impreza comes in both a sedan and hatchback body type
The Subaru Impreza sedan has four doors and seats five, while the Subaru Impreza hatchback has five doors and seats five. The hatchback is a compromise between an SUV and a sedan, and is ideal for families or for those who use their vehicle for an active lifestyle that requires their vehicle to carry a lot of gear.
The Subaru Impreza is versatile and economical, especially if you decide on a used Subaru Impreza. The interior is designed to make the most of available space, yet is easy to drive and park.
Both the sedan and hatchback models are considered to be compact, but the Subaru Impreza has a spacious cabin with good headroom and legroom for passengers. If you need more space for cargo, fold down the 60/40 split rear seats. In models from 2017 onward, the sedan has a 12.3-cubic-foot trunk and the hatchback has 20.8 cubic feet behind the rear seats and 55.3 cubic feet when they are folded.
4.The Subaru Impreza offers different trims that will suit your lifestyle
The Subaru Impreza WRX is a higher performance, all-wheel-drive sport version of the Subaru Impreza for those who need to accommodate a family. The Subaru Impreza STI offers an electronic Driver Controlled Centre Differential that provides quicker response and greater cornering capability.
Kijiji Autos is the place to find out more about the Subaru Impreza. Shop for your Subaru Impreza and contact a dealer today on Kijiji Autos.
Your well-being is our number one priority. Consider whether in-person transactions are necessary and visit our Help Desk for more information and guidance on how to trade or buy safely.
Easily find your next ride on Kijiji Autos
Search now