Six Things to Know About the Ford Mustang
By Kijiji Autos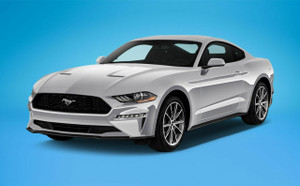 Anyone who is shopping for a Ford Mustang is shopping for more than just a vehicle. They are shopping for a muscle car that has symbolized power and freedom since 1965. This car makes a statement about its driver – that they love to drive a high-performance car with a powerful engine.

There are some things you may not be aware of when it comes to the Ford Mustang. Here is what you need to know about the Ford Mustang:
1. The Ford Mustang makes a great city car
The size and performance of the Ford Mustang makes it a good option for a city car. It is up to the challenge of urban driving because it is easy to handle in tight spaces and easy to park. And it's surprisingly affordable.
2. The Ford Mustang comes as a coupe only
Coupes are performance vehicles that are fun to drive. The Ford Mustang is not meant to be a family car or one that can carry a lot of passengers. So, it comes in a 2-door coupe style only. While you can have passengers in the back seat, space can be cramped.

3. The Ford Mustang has cool interior features
Since the mid to late 2000s, standard Ford Mustang interiors have offered features like a push-button engine start, active noise cancellation and a rearview camera for added safety.
4. The performance options mean the level of power is up to you
With the Ford Mustang, you have a choice of three engines, five drive settings and a choice of six-speed manual or 10-speed automatic transmission. You can also choose the volume of your exhaust, from a mellow, dampened purr to an amplified roar.
5. The Ford Mustang has trims that will suit your lifestyle
If you're looking for an electric Ford Mustang, there is the Ford Mustang Mach-E, which is powered exclusively by electricity. It is a cross-over, with little else in common with the classic idea of a Ford Mustang than a few stylistic points. The Ford Mustang GT is a higher level trim than the regular Ford Mustang and comes with a 5.0 litre engine with 460 horsepower.
A Ford Mustang Shelby is a higher-performance Ford Mustang, designed by a racer named Carroll Shelby, who went on to build performance cars.
6. The legendary Bullitt model is back with new features
The Ford Mustang Bullitt model is a limited series production of cars honouring the Ford Mustang that Steve McQueen drove in the movie Bullitt. The new version has a slightly more powerful 5.0-litre V8 engine with 480 horsepower and a cue-ball shifter which is standard.
Find out more about the Ford Mustang; shop and contact a dealer today all in one place—>Kijiji Autos! Whether you want a new Ford Mustang or a used Ford Mustang, we have the options that you need.
Your well-being is our number one priority. Consider whether in-person transactions are necessary and visit our Help Desk for more information and guidance on how to trade or buy safely.
Easily find your next ride on Kijiji Autos
Search now