The Hyundai Genesis offers both Good Value and Luxury Features
By Kijiji Autos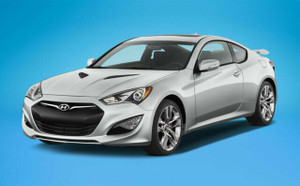 There is nothing like finding a vehicle that is not only a good value, but also offers luxury features. That is what you will get with the Hyundai Genesis. While Hyundai stopped manufacturing the Hyundai Genesis in 2016, they are still sought after. Here's why:
1. The Hyundai Genesis lives on with a new identity
The Hyundai Genesis was popular thanks to its high quality and reliability. When it was no longer being manufactured, drivers still wanted it, so it became known as the Hyundai Genesis G70, and was manufactured by a subsidiary of Hyundai called Genesis.
2. The Hyundai Genesis gives you a choice of body types
The Hyundai Genesis has a four-door sedan that comes in three sizes. You can choose a two-door option with the Hyundai Genesis coupe if you like a car that's fun and has good performance. If you need more space or have a family, the Hyundai Genesis SUV, named the Hyundai Genesis GV80, would be a good choice for an SUV that offers luxury, too.
3. The Hyundai Genesis makes a great city car
Whatever body type you choose, the Hyundai Genesis is well suited to the driving challenges of an urban environment. The steering response of the Hyundai Genesis makes it a good city car, thanks to its agility in smaller spaces.
4. The Hyundai Genesis has a luxurious interior
The interior is designed with easy use of controls in mind. Every Hyundai Genesis has a central display screen that can be set up for easy navigation when driving.
5. Technology helps make the Hyundai Genesis easier to drive
Back in 2012, Hyundai Genesis introduced an optional eight-inch touch screen display, which could be used for a driver information system or a multimedia controller. The first generation Hyundai Genesis offered rear-wheel drive only, but the second generation gives the option of all-wheel drive, for much better grip in snowy and icy conditions.
6. The Hyundai Genesis has a powerful engine
Depending on the engine size, first generation vehicles range from 258 horsepower to 429 horsepower. Second generation vehicles range from 253 horsepower to 419 horsepower.
7. The Hyundai Genesis provides a safe ride
The National Highway Traffic Safety Administration awarded the Hyundai Genesis a safety rating of five out of five. No matter what the generation, the Hyundai Genesis includes standard safety features of brake assist, which helps the driver brake effectively by applying additional force if needed. 
There is an anti-lock braking system that prevents wheels from locking if there is a quick stop, traction control to improve grip on the road and electronic stability control to prevent skidding and loss of control.
Should there be an accident, there are nine airbags to protect driver and passengers.
Shop for a Hyundai Genesis and contact a dealer today at Kijiji Autos. If you want to find out more about the Hyundai Genesis, it is easy to browse Kijiji Autos.
Your well-being is our number one priority. Consider whether in-person transactions are necessary and visit our Help Desk for more information and guidance on how to trade or buy safely.
Easily find your next ride on Kijiji Autos
Search now