Everything you need to Know About the Dodge RAM 1500
By Kijiji Autos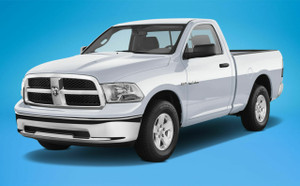 The Dodge RAM 1500 ticks a lot of boxes for tradespeople and truck enthusiasts alike. Strong, powerful and athletic, there's a little something for everyone on the market for a full-sized truck. If you're searching for a RAM 1500 near you, here's everything you need to know about this model to help you make an informed decision:
Basic specs
No. of seats: 2–6

No. of doors: 2–4

Transmission type: Manual or automatic

Fuel type: Gasoline

No. of trims: 8

Fuel consumption: 13.5 - 26.7 L/100km city/ 10 - 19 L/100km highway
What's inside?
The Dodge RAM 1500 offers drivers a spacious and comfortable ride with plenty of head and legroom for passengers. Available in the two or four-door option, parents will enjoy the convenience of LATCH seat connectors in the back row. The interior furnishings feel high-end even on the base model. Move just a little bit higher up on the trim line to the RAM 1500 Sport R/T, and you'll find extras like lumbar support and power seating as well as standard leather trim.
Safety features
If advanced driver assistance systems (ADAS) ranks high on your must-have list of safety features, consider buying no earlier than the 2017 model. The newest releases are equipped with plenty of standard and optional ADAS, such as:
Backup camera

Forward collision warning system

Lane-keep assist

Parking sensors

Brake assist

Technology and infotainment
The Dodge RAM 1500 is fully equipped with all the technology you could possibly need to stay connected, listen to music and follow directions. Plus, the five-inch infotainment touchscreen is very easy to use. Understandably, the most recent models have more to offer in terms of standard and optional features, such as:
Bluetooth connectivity

Satellite radio

USB ports

Touchscreen with Uconnect interface

Towing capacity
You'll often see this full-sized pickup truck on worksites due to its sheer power and towing capacity. The 2020 RAM 1500 towing capacity is 10,710 lb (4,858 kg). As with all heavy trucks, be prepared for the extra spend at the gas tank, especially if the cab is fully loaded.
How does the Dodge RAM 1500 drive?
For such a beastly work truck, the RAM 1500 is a fairly quiet ride, thanks to its insulated cabin. While similar models are better equipped at dealing with off-road conditions, the RAM 1500's agile and athletic handling may surprise a few people. Although you're dragging a heavy load, the RAM 1500 doesn't feel like a chore to drive.
Shop the Dodge RAM 1500 on Kijiji Autos
Are you shopping for a Dodge RAM 1500 in your area? Learn more about it on its model overview page, or get in touch with local dealers and take advantage of our search filters that let you find sellers offering contactless transactions. Shop confidently with Kijiji Autos.
Your wellbeing is our top priority. Trade with care and please visit our Help Desk or Health Canada to learn more.
Easily find your next ride on Kijiji Autos
Search now