How to take great pictures that will help sell your car
By Kijiji Autos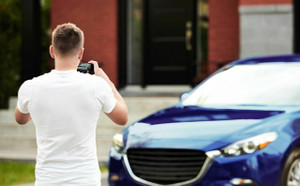 One of the biggest benefits of using Kijiji Autos is the sheer amount of choice. Buyers can browse a wide selection of makes, models and trims – and it's easy to make comparisons between them, for price and a variety of other factors.
Your well-being remains our top priority. Please seriously consider whether in-person meetings are necessary and visit our  for more information.
In such a highly competitive environment, sellers need to bring their A-game. If you want to stand out from the crowd and secure the best price for your car, every little detail matters. And that's where photography comes in.
Yes, the easiest and most effective way to attract buyers' attention is with stellar photography. Think about it this way: would you reply to a listing if the pictures were fuzzy, low-resolution and out of focus? We're guessing not. That first impression is all important, especially with as big of a purchase as a car.
The good news is, first-rate pics are easier to achieve than you might expect. Here's how to make it happen.
How to prep your car for photography
· Give your car a thorough clean. Take it to a car wash—go ahead, choose the ""diamond"" clean option—and dry your car off immediately with a microfibre cloth to ensure that no obvious streaks are left behind. If you're planning on selling your car in the winter, be sure to remove all traces of salt stains.
· If you have the time and money, splurge on an interior shampoo and detail. Nothing is more of a turn off than zooming in on something that looks like it has been lived in for the past year.
· If you plan on selling your winter/summer tires, be sure to give those a thorough wash as well—buyers will want to see their condition.
· Choose a neutral but pleasant background. Try to avoid parking your car near other cars, people, road signs or potholes.
· Shooting in the winter? Remove the snow completely from your car and try to find a place to shoot where the snow level is minimal.
How to take the pictures
· Take pictures during the 'golden hour' – the first and last hours of daylight, at sunrise and sunset. Avoid taking pictures in harsh sunlight as this will give your photos a washed-out appearance. Similarly, nighttime photos will often be grainy. Timing is everything!
· Get on your knees. It might feel—and look—awkward, but taking photos from your knees showcases the car's most accurate proportions.
· Don't make your photos claustrophobic. That is, back up far enough to shoot a bit of negative space around the car.
· Don't shoot so close that you have to show the full car in multiple shots.
· Take more pictures than you think you need to. The more photos you post, the more easily the buyer can visualize your car. Shoot from multiple angles, with the doors open, with the headlights on; the view from the front and back seats, the trunk.
· Capture the details. This is why it's important to clean the inside of your car. Zoom in on the dashboard, centre console, transmission, gear book, cupholders, trunk space, door buttons and engine.
More photography hacks
· Tilt the front wheels so that the rims are facing the camera. If you're taking photos from the side, keep the tires parallel to the car.
· Position the vent nozzles so that they are flush with your dashboard.
· Stand outside the car with the doors open when taking photos of the front and back seats—this gives the buyer a better perspective.
Taking pictures to sell your car doesn't require a fancy camera or production team. Help potential buyers see the real value of your vehicle by using these easy-to-follow car photography techniques.
Once you've done that, all that remains is to pair your dazzling pictures with a great ad. Then you'll be all set to sell your car on Kijiji Autos.
Easily find your next ride on Kijiji Autos
Search now