Short guide to the perfect car photo
By Kijiji Autos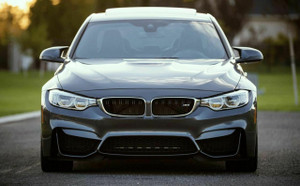 The same rule applies when advertising your used vehicle. You want it to stand apart from the crowd. By displaying high-quality, realistic photos of your vehicle, you're sure to grab the attention of buyers. Above all, you'll proudly present it in its best light!
Our short guide to the perfect car photo isn't rocket science. It's a simple but proven method, and if you check around, you'll see that even the pros and automotive columnists use it.
1. Show your vehicle
To show your car well, use as many photos as the website permits. Be sure to photograph it from all angles: front to back, both sides, etc. Don't forget to take a full shot to give potential buyers a real sense of what the vehicle offers so they can judge it accordingly. Take close-ups as well, and be sure to add photos of any accessories you're selling with the vehicle.
2. Don't forget the interior
A photo of the dashboard won't be enough to satisfy the curiosity of a buyer. Detailed photos of the dials, multimedia system and comfort controls are also needed. And don't forget the front and back seats. Ideally, you should try to display the amount of space the back seat offers as well as the vehicle's trunk or storage space.
3. Show the warts
No one intentionally posts false advertising, but leaving out the car's flaws at the outset can seriously annoy prospective buyers who come to see the vehicle. In this case, we're talking about major flaws: rust, dents, damage to the body, etc.
4. Use a little TLC
A dirty or dusty car may bring back fond memories of the country drive you took last week, but for the buyer, it's a buzzkill. Take the time to clean your vehicle thoroughly before the photo session. Imagine yourself as a fashion photographer: would you take photos of your models before their hair and makeup session? In this case, your model has headlights and four wheels, but it's every bit the star of the photo shoot!
5. Plan your studio
Your studio is simply the surroundings you choose for your photo shoot. A crowded parking lot with lots of other vehicles in the frame is not the ideal place. Showcase your car in an area that's clear of clutter.
6. Lighting matters
Your jet black car looks fantastic in the sunshine, but photographed under a street lamp in the evening it's less appealing. Be sure you have enough light for your photo session, but beware of too much sun, as this could create distracting reflections on the car's body and windows.
7. Photograph your car
Sometimes, used car ads show beautiful photos—taken directly from the manufacturer's catalogue. It's your used car that's for sale, not theirs. Don't cheat by taking this shortcut; buyers won't be fooled, and you'll lose their trust.
Easily find your next ride on Kijiji Autos
Search now