10 popular SUVs and crossovers in Canada
By Kijiji Autos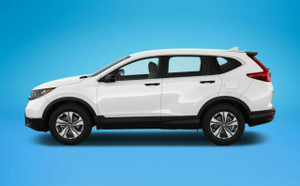 There's no doubt that Canadians navigate a wide variety of weather and lifestyle conditions every day. This makes a fun, practical and comfortable SUV or crossover a solid vehicle choice, from coast to coast. Listed in no particular order, check out these 10 popular SUV and crossover models to find out which one is right for you:
1. Ford Explorer
The Ford Explorer will give you the most bang for your buck at the pump. Besides its surprising fuel efficiency, the Ford Explorer comes with user-friendly technology and standard all-wheel-drive.
Learn more about its optional turbo V6 engine on the Ford Explorer overview page. 
2. Toyota RAV 4
The Toyota RAV 4 is available as a hybrid SUV and has been one of the best-selling vehicles in its class for years. Dependable and spacious, the Toyota RAV 4 checks off a lot of boxes for drivers looking for a family car.
Learn about its standard technology features on the Toyota RAV 4 overview page. 
3. Nissan Rogue
The Nissan Rogue is one of the best crossover vehicles on the market. With lots of standard advanced driver-assistance systems and a spacious cargo area, it's no wonder the Nissan Rogue is seen as an excellent family vehicle.
Learn more about its off-roading capabilities at the Nissan Rogue overview page. 
4. Jeep Grand Cherokee
This midsize SUV has somethng for everyone. Heavily equipped with built-in technology, the Jeep Grand Cherokee has a luxurious interior that sets it high on the price scale. Don't let its high-end styling fool you—this SUV is a monster when driven off-road.
Learn more about its 11 different trim levels on the Jeep Grand Cherokee overview page.
5. Toyota Highlander
The Toyota Highlander is a highly rated midsize SUV with a hybrid engine option and a smooth and comfortable ride. Standard all-wheel drive and advanced driver assistance technology make this a great SUV for safety-conscious drivers.
Check out the different engine options on the Toyota Highlander overview page.
6. Hyundai Santa Fe
The Hyundai Santa Fe is designed to take care of your family. The modern seven-seater SUV is equipped with Hyundai SmartSense safety technology and standard all-wheel drive.
Learn more about its spacious interior at the Hyundai Santa Fe overview page. 
7. Mazda CX-5
This popular crossover may be compact, but it delivers on both power and comfort. With an available turbo engine, high-end interior finishes and standard all-wheel drive, this is a great crossover for towing and travelling.
Find out more about its upscale interior at the Mazda CX-5 overview page. 
8. Jeep Wrangler
The Jeep Wrangler is designed to handle rugged conditions, making it the ideal choice for an off-road SUV. Its 11 available trims and various engine and transmission combinations give drivers plenty of choice, while the long list of available technology features makes the drive feel modern.
Learn more about its off-roading prowess on the Jeep Wrangler overview page. 
9. Ford Escape
The Ford Escape is a compact SUV that offers a lot of value for drivers looking for a five-seater vehicle. Newer models are packed with advanced safety and fuel-saving technology, which makes it one of the most popular SUV models for families.
Learn more about how it can handle winter roads on the Ford Escape overview page.
10. Honda CR-V
The Honda CR-V is a five-seater crossover SUV that manages to deliver a lot of cargo space. The ride is comfortable and smooth, and the high ground clearance makes this an ideal choice for those wintery conditions.
Learn about its great fuel efficiency and safety features at the Honda CR-V overview page. 
Find the best SUV models on Kijiji Autos
Kijiji Autos lets you confidently shop for your next vehicle with our long list of buyer-driven search filters, detailed dealer reviews and instant price analysis. Browse the best SUV and crossover models in your area so you can confidently connect with a dealer today.
Your well-being is our number one priority. Consider whether in-person transactions are necessary and visit our Help Desk for more information and guidance on how to trade or buy safely.
Easily find your next ride on Kijiji Autos
Search now