10 popular AWD sedans
By Kijiji Autos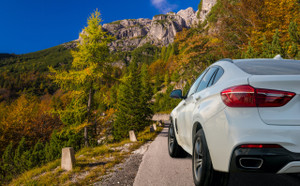 There is nothing quite like driving in a powerful car and having complete control of the road. While large SUVs and humble hatchbacks are seemingly taking over the roadways, there is something to be said for the classic body style of sedans with all-wheel drive. 
There's been a resurgence of vehicle buyers searching for "AWD sedans Canada." Thanks to Kijiji Autos, finding these traditional vehicles has never been easier. Customers can search for body styles in the Online Financing listings, access financing and even get approved for a car loan without ever stepping foot in a dealership. To make the search even easier, we have compiled, in no particular order, a list of 10 of the most popular all-wheel drive sedans on the market today.
1. Toyota Camry
The long-standing and ever-popular Toyota Camry is deserving of a spot on this list. With a variety of trim levels that range from sporty to luxurious, there is sure to be an option to fit your lifestyle. Additionally, the starting price range is competitively low.
2. Nissan Altima
The Nissan Altima is, first and foremost, a family-focused car—and it's one of the few vehicles in the family sedan market that offers all-wheel drive. The five-seater is surprisingly excellent in fuel efficiency and is considered a well-rounded vehicle option.
3. Subaru WRX
The Subaru WRX is coming into 2022 with a whole new design. The second-generation Subaru WRX maintains everything that makes the original special but adds more strength, safety and technology. This new model is worth a look when it comes to all-wheel drive cars.
4. Genesis G80
The Genesis G80 is a luxury all-wheel drive sedan without an overly high price tag. Relatively new to the market, the luxury division of Hyundai has shaken up the market with its powerful and premium vehicles like the Genesis G80.
5. Lexus ES
The Lexus ES is refined, luxurious and one of the best AWD sedans. Available in a hybrid option, the car also comes loaded with safety features. An astounding 12 unique trim levels mean you can find just the Lexus ES to fit your needs.
6. Acura TLX
The five-seat Acura TLX comes in fully redesigned for 2021. A new and refined look is outshined by upgraded performance. Available with a V6 engine, this AWD sedan is robust, comfortable and stunning.
7. Audi S3
The Audi S3 is the upgraded performance version of the Audi A3 sedan. As such, it comes fully loaded with high-tech features and a luxurious interior. Available in three trim levels, it's worth the research when comparing AWD sedans Canada.
8. BMW 5 Series
The BMW 5 Series is also certainly worth the look, despite the slightly higher price tag. It is luxury at the top of the field when it comes to all wheel drive sport sedans. High performance and handling are no longer just for the coupe.
9. Tesla Model S
The all-electric Tesla Model S now comes standard with all-wheel drive. The high-performance sedan is already made an impression on the market. Now it's taking its handling to the next level. If an eco-friendly AWD sedan is what you're after, it is worth looking into.
10. Volvo S60
Comfort and a premium driving experience, the Volvo S60 is one of the best all wheel drive sedans available. The midsize car is also available with a plug-in powertrain on the Volvo S60 Recharge, heading the way for the company to shift their entire lineup to hybrid and electric platforms.
Look for a new and used AWD sedan with the extensive catalogue of vehicles available in your area on Kijiji Autos.
Easily find your next ride on Kijiji Autos
Search now