5 Things you Need to Know About the Nissan Frontier
By Kijiji Autos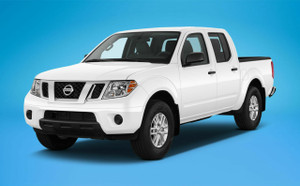 If you are looking for a pickup truck for work, there are a few things that you need to consider. The kind of work the pickup truck will be doing, and if the pickup truck is strong and powerful enough for that work. It will need enough space for storage, equipment and maybe even passengers. It will also need to fit your budget and have features that make driving the truck comfortable and safe.
One pickup that will fit the bill is the Nissan Frontier. Here's why:
1. The Nissan Frontier has features that you look for in a pickup truck
This economical pickup is tough, sturdy and strong. With the number of trims available, it can satisfy a lot of work demands. You have a choice of manual or automatic transmission and it comes in King Cab and crew cab. Both cabs are two-row cabins, but the King Cab has a tendency to be more compact, with the crew cab giving rear-seat passengers a little more room.
2. The Nissan Frontier gives you the space that you need
The Nissan Frontier gives you enough cargo space for hauling your workloads. The two-door model will suit you if you mostly travel alone or with just one passenger, while the four-door model has room for families.
3. The Nissan Frontier towing capacity is what you need for the job
Braked is when the trailer being towed has its own braking system and unbraked is when the trailer being towed does not. Since 2005, the braked towing capacity for the Nissan Frontier has been between 1588 − 2950 kg, and since 2014, the unbraked towing capacity has been 454 kg, depending on the year and trim choices. 
4. The Nissan Frontier Pro-4X is especially suited for off-road driving
While the other Nissan Frontier pickup trucks have rear-wheel drive, the Nissan Frontier Pro-4X has four-wheel drive, for those times when you need to go off-road.
5. The Nissan Frontier offers comfort and safety
You will have the comfort of a smooth ride, thanks to the Nissan Frontier's ground clearance and axle articulation. The seats are made to fit your body so that you remain comfortable even during long trips.
All models have anti-lock brakes that cut down on skids when there is a forced stop. Models from 2019 feature the Nissan Intelligent Mobility™ suite, which includes things like Intelligent Forward Collision Warning that lets you know if you're about to hit something in front of you, and the Traction Control system which helps prevent slipping and sliding on roads that are icy or wet. Blind Spot Detection is there to alert you to possible danger in your blind spots.
Find out more about the Nissan Frontier. Shop and contact a dealer today all in one place: Kijiji Autos! Whether you want a new Nissan Frontier or a used Nissan Frontier we have the options you need.
Your well-being is our number one priority. Consider whether in-person transactions are necessary and visit our Help Desk for more information and guidance on how to trade or buy safely.
Easily find your next ride on Kijiji Autos
Search now