Everything you Need to Know About the Ford F-150
By Kijiji Autos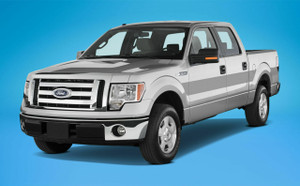 The Ford F-150 is one of the most popular pickup trucks in Canada. With optional two- or four-door cabs, the F150 is just as suitable as a family car as it is a work vehicle. Versatile, durable and well-equipped with Ford's lineup of advanced safety technology, this model may just be the solid workhorse you're looking for.
Keep reading to find out more about the Ford F-150:
Basic specs
Seats: 3–6
Doors: 2–4
Trim lines in the latest generation (2015–): 6
Fuel type: gasoline or diesel
Transmission: automatic
NHTSA Safety rating: 4/5 stars
What's inside?
If you plan on loading up the backseat with passengers, we recommend you opt for the four-door model, which adds extra legroom for those at the back. The seating is comfortable and spacious and the front-row passengers can take advantage of Ford's user-friendly infotainment system. Comfort-driven add-ons include: 
Lumbar support

Heated seating 

Leather trim

Dual climate zones
Safety features
The Ford F-150 has been around for over four decades, so it's fair to say that its safety and technology have significantly improved and adapted over the years. Models from 2008 onwards can expect quite a few standard safety features, such as:
Driver and passenger airbags

Daytime running lights

Military-grade aluminum-alloy body
Newer vehicles come with optional brake assist and collision warning systems. Selecting higher trims gives you more advanced driver-assisted systems, such as overtaking sensors and a fatigue warning system.
Technology and infotainment 
For those more interested in tech and connectivity, drivers can expect the full gamut of gadgets. Powered by Ford Sync technology, the F-150's infotainment screen gives you access to everything you need—music, weather, directions and phone—within easy reach. Other bells and whistles include:
Bluetooth connectivity
360-degree camera
Satellite radio
Auxiliary jack
Ford F-150 towing capacity
This Ford model is classified as a light-duty full-size pickup. It can load up to 3,270 lbs and the towing capacity on the most recent models is up to 13,000 lbs. 
Drivers can choose the length of the bed in the Ford F-150 diesel gas trucks, from 5.5 ft to 8.5 ft. As a light-duty pickup, this makes it a perfect vehicle for hauling recreational vehicles and boats. Keep in mind that a truck this big tends to be a bit expensive at the pump. 
Check out this article for more advice on choosing fuel-efficient cars:
5 Litres of information on fuel economy.
How does the Ford F-150 drive? 
The Ford F-150 has plush, comfortable seating, but you can expect a bit of jostling when driving over bumpy roads. Its independent front suspension allows for great handling and stability, even though drivers new to pickups will have to get used to maneuvering a heavy vehicle. 
Shop the Ford F-150 on Kijiji Autos
Get to know more about this popular pickup truck on the Ford F-150 model overview page or browse nearby models for sale near you on Kijiji Autos.
Your wellbeing is our top priority. Trade with care and please visit our Help Desk or Health Canada to learn more.
Easily find your next ride on Kijiji Autos
Search now