Everything you Need to Know About the Toyota RAV4
By Kijiji Autos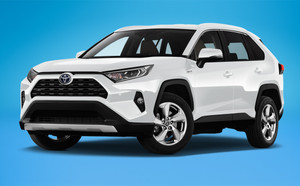 If you are looking at buying a family vehicle, there are certain things you should consider. Like how much room will you need for the size of your family, and if this will change in the future.
Fuel efficiency is essential for budget considerations, and with children, you want to feel confident in any safety features. Electronic aids and child-friendly entertainment features like Bluetooth connectivity for car speakers and DVD players are important, especially for long trips. You will want to be ready for any type of road trip, and that might mean getting a vehicle with 4-wheel drive or towing capability. 
A sport utility vehicle (SUV) is ideal for a family vehicle. An SUV has the kind of space that a family needs, and the power and ruggedness needed for any road trip adventures your family may have.
The top-selling, reliable Toyota RAV4 2020 is the kind of SUV that will meet your family's needs.
Here is everything you need to know about the Toyota RAV4:
Stability Control adds Extra Security:
You can have confidence that the Toyota RAV4 is a safe vehicle for your family. The National Highway Traffic Safety Administration, a US government agency, gives it a safety rating of 5 out of 5.
The Toyota RAV4 has multiple airbags. There are the front-driver and front-passenger airbags, and a knee side and side curtain airbag.
There is a Safety Sense system that gives collision warnings with automatic braking, overtaking sensors and an anti-lock braking system. Electronic traction control and stability control adds extra security.
Space and confort:
You can fit five comfortably into the Toyota RAV4, and both the front and back provide ample legroom for adults. Models from 2018 onward have rear seats that fold flat on a 60/40 split, so you can customize your cargo area. There are also spaces throughout the cabin where small items can be stowed.
There are ISOFIX installation points for easy child safety seat set up.
Technology:
Driving is easier with adaptive cruise control, rear sensors and a rear-view camera. The children can be entertained even on the longest trips by digital radio, Bluetooth, Apple CarPlay and Android Auto.
Toyota RAV4 Hybrid Models:
The RAV4 offers two hybrid models. There is the Toyota RAV4 Hybrid and the Toyota RAV4 Prime.
The Toyota RAV4 Hybrid is a traditional hybrid that cuts down on fuel costs by using a combination of a gasoline-fueled engine and electric motor. 
The Toyota RAV4 Prime is a plug-in hybrid and has a larger battery than the traditional hybrid, which allows the Prime to travel up to 42 miles in electric mode. Either model will save on fuel costs.
The Toyota RAV4 has many features to offer. Contact a dealer today on Kijiji Autos to shop for your Toyota RAV4.
Your wellbeing is our top priority. Trade with care and please visit our Help Desk or Health Canada to learn more.
Easily find your next ride on Kijiji Autos
Search now