Why is the Volkswagen Jetta so Popular?
By Kijiji Autos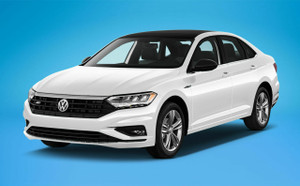 The Volkswagen Jetta, or VW Jetta, is Volkswagen's best-selling car in Canada. Here's why:   
1. The Volkswagen Jetta makes a great first car
The Volkswagen Jetta makes a great first car because it is reliable and practical. It has good handling, which makes it easy to drive without worry.
2. Redesigns have led to different body types
The Volkswagen Jetta started as a compact car, and efforts to broaden its appeal have led to diesel, hybrid and wagon body models, and it now comes as a sedan.
3. The engine gives you all the power you need
The engine is powerful for its compact size. It has 147 horsepower, which can get you to 96 km/h in just under eight seconds. 
4. The cabin is spacious, with a user-friendly interior
The interior may not be fancy, but it is functional, with all of the controls being well-positioned and easy to use.
5. The Volkswagen Jetta can help you feel safe
Even earlier models of the Volkswagen Jetta offer Stability Control, which helps with steering control, and four-wheel antilock disc brakes, so your wheels won't lock up on slippery surfaces. There are side and head-cushion airbags as well.
The latest models offer a safety cage that will absorb impact energy. An Intelligent Crash Response System kicks into gear if there is an accident. It will deploy all six airbags, unlock the doors and even turn off the fuel pump. In addition, an automatic post-collision braking system will prevent further impact by slowing down the vehicle after a collision.
6. Some Volkswagen terms translated
In the Volkswagen tradition, the letter designation of MK refers to the generation of the vehicle. This letter designation is used not only for the Jetta car but for other Volkswagen models as well. Each generation represents a design, and a completely redesigned model represents a new generation of that vehicle. For example, the MK4 Jetta is a fourth-generation Jetta and the MK6 Jetta is a sixth-generation Jetta.
Historically, GLI, as in Jetta GLI, meant Grand Luxe Injection. They were made with luxury and comfort in mind. The "Injection" part referred to fuel injection, which was forward technology at the time, but now all vehicles have fuel injection. The modern meaning of Jetta GLI indicates that the model has the 2.0L TSI four-cylinder engine, making for 228 horsepower and 258 lb-ft of torque. In contrast, the regular Volkswagen Jetta produces 147 horsepower and 184 lb-ft of torque. 
TSI stands for Turbocharged Stratified Injection, referring to how the fuel is injected into the cylinders before the ignition, ensuring the best mix of oxygen and gas for the best efficiency.
Check out Kijiji Autos to learn more about the Volkswagen Jetta. Shop for a Volkswagen Jetta and contact a dealer on Kijiji Autos today.
Your well-being is our number one priority. Consider whether in-person transactions are necessary and visit our Help Desk for more information and guidance on how to trade or buy safely.
Easily find your next ride on Kijiji Autos
Search now