4 Reasons Why You Should Buy a Honda Accord
By Kijiji Autos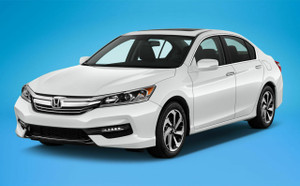 The Honda Accord offers a lot of value for a mid-range price. It is a popular model thanks to all the choices it gives you that are sure to fit your lifestyle. Here is some information about the kind of features you can choose from with the Honda Accord:
1. The Honda Accord will suit your needs
The Honda Accord comes in three body types, and one of these versions is sure to suit your needs and lifestyle. The reliable Honda Accord sedan offers fuel efficiency that makes it a great choice as a commuter car. Its ample legroom and spacious cabin make for a comfortable family car as well. While the Honda Accord sedan has a good-sized trunk, the opening is narrow, so it can be difficult to pack.
The interiors of all models are simple but enhanced with the quality of its finishes, and it comes with automatic or manual transmission. If style is what you like in a car, the Honda Accord comes with a coupe body type. The Honda Accord coupe has two doors, as opposed to the Honda Accord sedan's four doors. There was a total redesign of the Honda Accord in 2018 when the two-door option ended.
2. Customize your Honda Accord with different trims
Trims are the different options you can choose from in a car model. If fuel efficiency is the number one priority for you, there is the Honda Accord hybrid. Depending on whether you choose the 2L gas 196 horsepower engine or the 2L gas 212 horsepower engine, you can get city consumption ranging from 3.7 – 4.9 L/100km and highway consumption of 4 – 5.1 L/100 km, with a range between 1206 – 1558km and 1196km.
The Honda Accord Sport trim has a sportier look and performance, with an engine that has more horsepower than the Honda Accord sedan. An optional sporty feature is paddle shifters that allow quick manual shifting up and down the automatic transmission gears.
3. Many safety features come standard
You and your family will be safe in a Honda Accord, which received a perfect rating for frontal-impact crash testing by the National Highway Traffic Safety Administration. All generations feature a standard four-wheel anti-lock braking system (ABS) that helps prevent skidding.
4. Even older models have impressive technology
As far back as 2013, Honda Accords have offered Bluetooth, with an eight-inch infotainment display. Newer models have Apple Carplay and Android Auto, with voice commands and a hands-free mobile phone interface, not to mention driver-assist technology like lane departure warning and lane-keeping assist, which will gently steer you back to the centre of your lane if needed.
You can learn more about the Honda Accord by checking out Kijiji Autos. You can shop for a new or used Honda Accord and contact a dealer on Kijiji Autos today.
Your well-being is our number one priority. Consider whether in-person transactions are necessary and visit our Help Desk for more information and guidance on how to trade or buy safely.
Easily find your next ride on Kijiji Autos
Search now