Everything you Need to Know about the Honda Civic
By Kijiji Autos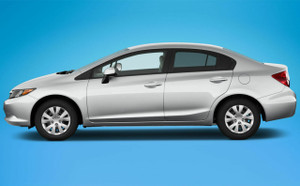 Buying your first car or a new vehicle for your family is exciting. There are so many things to think about – affordability and economy, reliability and safety, and of course, style.
Set a realistic budget based on the down payment and any monthly installments on any loan you may have, and include costs like insurance, maintenance and repairs. For used cars, do your research to find out which have the greatest reliability and mileage lifespan. When you test drive, you should feel comfortable, and it should be fun to drive.
Safety is a high consideration. Especially if you are a new driver who wants to feel more confident in difficult driving conditions. Look for safety systems like anti-lock brakes (ABS), traction control (TC) and electronic stability control (ESC).
A great choice for a family vehicle or first car is the Honda Civic. There is a reason it has been Canada's best-selling car for two decades.
Here is everything you need to know about the Honda Civic:
Safety
The National Highway Traffic Safety Administration has rated the Honda Civic at 4 out of 5. Some safety features offered by the Honda Civic include a collision warning system with automatic braking, an anti-lock braking system and a brake assist system.
There is front-wheel drive and electronic traction control and stability control. You will feel safer, with a front-driver and front-passenger airbag, along with a side curtain airbag.
Technology
The technology that comes with the Honda Civic makes driving easier and safer. The Honda Civics from 2018 onward include four different warning systems: forward collision, collision mitigation, lane departure and a blind-spot display.
Rear sensors and a rear-view camera make backing safer than ever, and a hill start assist will keep your vehicle from rolling backward when you're stopped on a hill.
Older models still have technology too, like keyless entry, a four-speaker CD/MP3 audio system and an auxiliary audio jack. Newer models offer a 7" display audio system, Bluetooth and a USB port for front passengers.
Space and Comfort
The Honda Civic provides enough legroom to comfortably seat a family of five, whether in the front or back, with a good amount of trunk space.
Different models offer different perks. The Honda Civic SI comes as a coupe or a sedan, and offers a sunroof and a sportier interior with sports seats in the front, and those seats are heated, with 2 climate zones.
The Honda Civic Hatchback has more headroom and a 60/40 split fold-down rear seatback.
The Honda Civic Type R is for those who like something sportier, with higher horsepower and higher performance.
There are so many options with the Honda Civic, with a range from economical to sporty. To shop for your Honda Civic, be sure to contact a dealer today on Kijiji Autos to make the choice that is best for you.
Your wellbeing is our top priority. Trade with care and please visit our Help Desk or Health Canada to learn more.
Easily find your next ride on Kijiji Autos
Search now