10 most popular electric SUVs available in Canada
By Kijiji Autos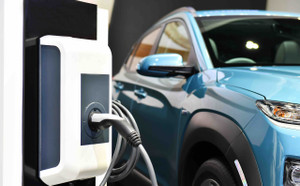 As gas prices increase and carmakers continue to pursue zero emissions technology, more and more Canadians are looking for the best electric SUV. Offering the family-sized capacity of regular SUVs, these popular electric SUV vehicles may be more expensive than their gas-powered siblings but can be more affordable in the long term thanks to fuel savings and government incentives.
Looking for an electric SUV? Here are 10 of the most popular electric SUVs in Canada in 2021, in no particular order:
1. Ford Mustang Mach-E
Introduced in 2021, the Ford Mustang Mach-E is the first SUV to carry the Mustang name. This innovative all-electric crossover offers a range of up to 370 km and 266 horsepower. The top-of-the-line Ford Mustang Mach-E GT Performance Edition delivers an extended range of 418 km plus 480 horsepower and 634 lb-ft of torque. While this electric SUV may not share the trademark roar of its muscle car namesake, drivers still enjoy its quick acceleration and smooth handling.
Find a Ford Mustang Mach-E for sale in your area on Kijiji Autos.
2. Hyundai Kona electric
Canada's first subcompact electric SUV, the Hyundai Kona electric debuted in 2021. With an impressive all-electric range of up to 415 km, this small SUV is a great choice for both daily commutes and longer adventures. An available heat pump system helps reduce range loss during the winter by converting external heat energy into cabin heating. Interior comforts include heated seats and a touchscreen infotainment system with smartphone integration.
Browse Hyundai Kona models for sale in your area on Kijiji Autos.
3. Tesla Model Y
The Tesla Model Y is a mid-sized electric SUV with seating for five. Drivers looking for a 7-seater electric SUV will be pleased to hear about the optional third row. The 2021 Tesla Model Y is available in two trim levels: Long Range and Performance. Long Range models have a range of up to 531 km. Performance models offer a range of up to 488 km and a top speed of 250 km/h. All Tesla vehicles can be charged at Supercharger locations across Canada.
Learn more on the Tesla Model Y overview page.
4. Audi e-tron
Audi's first electric SUV, the Audi e-tron, was released in 2019. Offering a spacious interior with comfortable seating for five and generous cargo space, it makes a great family vehicle. The Audi e-tron delivers an all-electric range of up to 357 km, 355 horsepower and comes equipped with Quattro all-wheel-drive technology. This luxury electric vehicle is outfitted with upscale interior features, including leather upholstery and a panoramic sunroof.
Read about safety features on the Audi e-tron overview page.
5. Volkswagen ID.4
New in 2021, the Volkswagen ID.4 is a small electric SUV with seating for five. Designed for life in Canada, this EV SUV is equipped with a heat pump to preserve range on cold days, heated seats and steering wheel for comfort, and all-wheel drive is available. The VW ID.4 offers a maximum range of 400 km with rear-wheel drive and 386 km with all-wheel drive. With a public DC fast charger, you can charge up to 100 km in just 10 minutes.
Find the VW ID.4 and other Volkswagen cars for sale on Kijiji Autos.
6. Chevrolet Bolt EUV
New for 2022, the Chevrolet Bolt EUV is a small electric SUV based on the popular Chevrolet Bolt EV hatchback. Larger than its predecessor, the EUV model (or electric utility vehicle) offers comfortable seating for five. Delivering an estimated range of up to 397 km fully charged, the Chevrolet Bolt EUV is a practical option for daily driving and longer adventures. The available Super Cruise feature enables hands-free driving on divided and compatible roads.
Look for Chevrolet Bolts for sale in your area.
7. Kia Niro EV
The Kia Niro EV is the electric version of the carmaker's compact crossover SUV. The Kia Niro is also available as a plug-in hybrid and self-charging hybrid. Introduced in 2020, the all-electric model offers a range of up to 385 km fully charged. The regenerative braking system generates energy each time you brake, charging the battery as you drive. Standard features include heated seats, heated mirrors and remote start.
Review the safety rating at the Kia Niro overview page.
8. Jaguar I-PACE
The attractive Jaguar I-PACE electric SUV debuted in 2019. This dynamic EV SUV delivers 394 horsepower and 512 lb-ft of torque, accelerating from 0-100 km/h in just 4.5 seconds. Jaguar I-PACE models are equipped with all-wheel drive and low-traction launch for added stability in slippery conditions. As a luxury electric car, you can expect premium interior features including an air purifier, remote temperature control and a panoramic sunroof.
Discover advanced safety features on the Jaguar I-PACE overview page.
9. Mazda MX-30
Mazda's first electric vehicle, the Mazda MX-30 is new for 2022. This stylish five-seat electric SUV features sustainable interior materials including cork details and upholstery made from recycled plastic bottles. With a range somewhat shorter than its competition, the Mazda MX-30 is better suited to daily driving than road trips. The estimated range is 161 km fully charged. On a brighter note, this SUV does charge quickly, going from 20% to 80% in just 36 minutes on a Level 3 DC charger.
Browse Kijiji Autos for Mazda MX-30 models for sale.
10. BMW iX
The BMW iX is another new electric SUV, debuting as a 2022 model. The first version is the BMW iX xDrive 50, an all-wheel-drive compact SUV equipped with two electric motors for 516 horsepower. As expected of BMW vehicles, this luxury EV SUV offers a smooth and responsive ride, plus plenty of premium features, such as heated power-adjustable seats, large digital displays and an available electrochromic sunroof.
Search for BMW iX SUVs for sale on Kijiji Autos.
Convenient and safe shopping with Kijiji Autos
Drivers looking to purchase a new or used electric SUV can feel confident shopping with Kijiji Autos. With thousands of listings updated daily and our convenient saved search function, you can easily find a vehicle for sale in your neighbourhood. Plus with easy pricing guidance, and car mileage analysis, you can make sure you're getting a great deal.
Get your car hunt started safely and securely by browsing Kijiji Autos for electric SUVs for sale in your area.
Easily find your next ride on Kijiji Autos
Search now