10 most popular midsize SUVs in Canada
By Kijiji Autos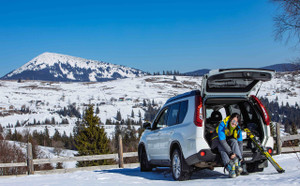 Canadians love SUVs. These versatile vehicles are a great match for both our weather and our lifestyles. Whether you're looking for a modern family car or a capable all-wheel drive vehicle that can handle snowy roads, there's a great selection of mid-size SUVs and crossovers available in Canada. Drivers searching for the best mid-size SUV often want to know which models are the most popular.
To help you start with your car hunt, here are 10 of the top mid-size SUVs in Canada, in no particular order:
1. Toyota Highlander
The safe and reliable Toyota Highlander is one of Canada's best-selling SUVs. This mid-size SUV seats up to eight passengers thanks to an optional third row, making it a popular choice for families. The available all-wheel-drive offers added traction in bad weather, while a hybrid version boosts fuel efficiency. With the latest redesign in 2020, newer Toyota Highlanders are outfitted with touchscreen infotainment systems, smartphone integration and a full suite of standard safety features and driver's assistance technologies.
Find out more on the Toyota Highlander overview page.
2. Jeep Grand Cherokee
A popular choice for more than 25 years, the two-row Jeep Grand Cherokee offers comfortable seating for five and great visibility. This mid-sized SUV is available in a wide variety of trim levels, allowing you to choose the level of luxury and off-road capability you need. Jeep Grand Cherokees can be outfitted with front-wheel or all-wheel drive and your choice of powerful engines. Standard safety features include a suite of airbags and blind-spot monitoring with rear cross-traffic alert.
Discover which trim level is right for you on the Jeep Grand Cherokee overview page.
3. Jeep Wrangler
An iconic off-road vehicle, the four-door version of the Jeep Wrangler competes against other top-selling mid-size SUV and crossover models. With its removable doors and roof, you can customize your driving experience to match the weather. Plus, the capable all-wheel-drive system allows you to manoeuver safely both on and off-road and through tricky weather conditions. Drivers serious about hitting the trails may want to consider Rubicon models of the Jeep Wrangler.
Learn more about this rugged SUV on the Jeep Wrangler overview page.
4. Hyundai Santa Fe
The Hyundai Santa Fe is an attractive and affordable crossover SUV equipped with your choice of front-wheel or all-wheel drive. Newer models offer seating for five, while a three-row version with seating for seven was available until 2019. Drivers will be pleased with the Hyundai Santa Fe's array of advanced safety technologies, which include forward collision warning with automatic emergency braking, adaptive cruise control and lane-keeping assistance.
Discover more safety features on the Hyundai Santa Fe overview page.
5. Volkswagen Atlas
The three-row Volkswagen Atlas debuted in 2018. This seven-seat midsize SUV is spacious and comfortable, and since even the oldest models are only a few years old, you can expect used vehicles to have fairly up-to-date technology. The Volkswagen Atlas is available with your choice of two engines, offering from 235 to 276 horsepower. Optional features include all-wheel drive, heated and ventilated leather seats, and tri-zone climate control.
Find more features on the Volkswagen Atlas overview page.
6. Ford Explorer
The family-sized Ford Explorer offers three rows of seating and generous cargo space. While older models might seem a bit basic, newer Ford Explorers are outfitted with touchscreen infotainment systems and smartphone integration. Looking for a midsize SUV with towing capability? The standard rear-wheel drive and trailer sway control combine for safe and capable towing. Opt for an all-wheel-drive model for more traction in bad conditions or if you'd like to head off-road.
Learn about available safety features on the Ford Explorer overview page.
7. Subaru Outback
A cross between a midsize SUV and a station wagon, the Subaru Outback is a comfortable and practical family vehicle. Offering a roomy interior with seating for five and generous cargo space, this car is a great choice for daily driving and longer adventures. All models are equipped with all-wheel drive, giving you confidence in winter weather and plenty of off-road capability. Available interior features include heated seats and voice-activated climate control.
Discover more interior features on the Subaru Outback overview page.
8. Ford Edge
The two-row Ford Edge offers seating for five and excellent cargo space. Available features like the hands-free foot-activated liftgate and remote start help make your life easier, while the standard suite of safety features allow you to navigate worry-free. Look for features like blind-spot monitoring with cross-traffic alert, lane-keeping assistance, pre-collision warning with automatic emergency braking and available adaptive cruise control.
Read about available powertrains on the Ford Edge overview page.
9. Kia Sorento
A compact three-row SUV, the Kia Sorento is smaller than other midsize SUVs while still providing seating for up to seven. While the third row is pretty tight in older models, the latest generation offers more comfortable seating. This attractive yet affordable SUV offers standard front-wheel or available all-wheel drive, decent fuel economy with a hybrid model available and eight-speed automatic transmission. It is also equipped with an impressive suite of advanced safety features.
Learn more on the Kia Sorento overview page.
10. Lexus RX
Drivers looking for the best midsize luxury SUV often consider the Lexus RX. This comfortable luxury crossover is available in two lengths: the two-row Lexus RX 350 and the three-row Lexus RX 350L. There is also a hybrid model, the Lexus RX 450h. Premium interior features include leather upholstery, genuine wood trim, heated seats and a panoramic sunroof. Expect safety features like pre-collision warning with emergency braking and adaptive cruise control.
Review the safety rating on the Lexus RX overview page.
Popular electric and hybrid mid-size SUVs
Need the space and capability of a midsize SUV but looking for an eco-friendlier option? While most electric SUVs tend to be fairly small, there are an increasing number of EV and PHEV midsize SUVs available in Canada. Here are five popular models to consider, in no particular order:
1. Tesla Model X
Boasting up to 1,020 horsepower, the Tesla Model X is powerful, luxurious and high tech. This premium midsize electric SUV delivers an all-electric range of up to 560 km and comes equipped with all-wheel drive technology. While the unique falcon-wing doors are sure to turn heads, the spacious interior provides family-friendly seating for up to seven.
2. Jeep Wranger 4xe
The new Jeep Wrangler 4xe plug-in hybrid offers an electric range of 35 km and a total driving range of up to 592 km. Equipped with Jeep's full-time four-wheel drive system, this midsize hybrid SUV is ready to conquer challenging terrain. Flexible charging options allow you to charge at home or on the go.
3. Kia Sorento PHEV
With three rows of comfortable seating, the Kia Sorento PHEV gives families an eco-friendlier option. This plug-in hybrid mid-size SUV has a fully electric range of up to 51 km, perfect for zero emissions errands. Each model comes equipped with an impressive suite of safety features, including lane-keeping assist and blind-spot monitoring.
4. Hyundai Santa Fe PHEV
The two-row Hyundai Santa Fe plug-in hybrid offers seating for five, making it a popular choice with smaller families. This fuel-efficient hybrid SUV delivers a purely electric range of up to 50 km and 260 horsepower. The spacious interior can be outfitted with premium features like leather upholstery, heated and ventilated seats and remote-folding rear seats.
5. Audi e-tron
The attractive Audi e-tron is a luxury EV, with an all-electric range of up to 364 km when fully charged. This all-wheel drive electric SUV comes equipped with two electric motors, delivering up to 402 horsepower. The spacious interior offers premium features like four-zone climate control, heated leather seats and a panoramic sunroof.
Shop confidently with Kijiji Autos
Kijiji Autos offers Canadians a less stressful way to car shop.
Most car listings feature instant price analysis and car mileage analysis, giving you the tools you need to compare prices. Don't see what you want today? Set up a saved search and we'll notify you when your dream car is listed. Start your car hunt today on Kijiji Autos.
Easily find your next ride on Kijiji Autos
Search now