10 popular cars that are made in Canada
By Kijiji Autos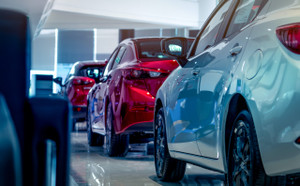 While Canada may not be home to well-known Canadian car brands, there are a handful of Canadian car manufacturers in Ontario. From compact cars to SUVs, muscle cars to minivans, you can find a nice selection of cars manufactured in Canada on Kijiji Autos.
Here are 10 vehicles made in Canada, in no particular order:
1. Honda Civic
The best-selling Honda Civic has been built in Alliston, Ontario for more than 30 years. This compact car has a well-earned reputation for reliability, fuel economy and sporty style. Plus, whether you choose a sedan, hatchback or coupe, it's fun to drive.
2. Toyota RAV4
The Toyota RAV4 and RAV4 Hybrid are made in the Japanese automaker's Woodbridge and Cambridge, Ontario facilities. One of the top-selling SUVs in Canada, the Toyota RAV4 delivers a comfortable interior, above-average cargo space for its class and a suite of advanced safety technologies.
3. Lexus RX
Lexus produces the Lexus RX, a mid-sized luxury SUV, in Cambridge, Ontario. This attractive crossover is offered in two lengths, seating from five to seven and with a gas-powered or hybrid powertrain. Gas-powered models come standard with front-wheel drive, while hybrid models are equipped with all-wheel drive.
4. Ford Edge
The mid-sized Ford Edge SUV is built in the American automaker's Oakville, Ontario plant. A popular family vehicle, this five-seater offers a comfortable interior, generous cargo space and available all-wheel drive. Look for advanced safety technologies like forward collision warning with emergency braking.
5. Honda CR-V
The five-seat Honda CR-V crossover is produced in Honda's Alliston, Ontario facility. This versatile small SUV is comfortable and spacious, offering both excellent legroom and lots of cargo space. Available all-wheel drive and generous ground clearance make it well-suited for snowy conditions.
6. Chevrolet Equinox
The Chevrolet Equinox is built by the GM plant in Ingersoll, Ontario. This attractive mid-sized SUV offers seating for five and available all-wheel drive. Depending on trim level, comfort and convenience features may include heated leather seats, remote start, a Wi-Fi hotspot and a power liftgate.
7. Dodge Charger
A large sedan with muscle car style, the Dodge Charger is produced at the GM facility in Brampton, Ontario. This powerful car comes standard with rear-wheel drive and available engines range from the base-level 292-horsepower V6 to a blisteringly fast 807-horsepower supercharged V8.
8. Lincoln Nautilus
The Lincoln Nautilus is a luxury SUV made in Oakville, Ontario. Fairly new to the market, this mid-sized crossover launched in 2019. Available premium features include heated and ventilated leather seats, a panoramic sunroof, power rear liftgate and adaptive cruise control.
9. Chrysler Pacifica
Built in Windsor, Ontario, the Chrysler Pacifica minivan is an attractive family vehicle with seating for up to eight. Convenient Stow 'n Go seats fold into the floor of the van, quickly turning this people-mover into a cargo hauler. Consider the Chrysler Pacifica Hybrid for better fuel economy.
10. Dodge Challenger
The Dodge Challenger is a powerful muscle car produced in Brampton, Ontario. Fast and low, this sporty coupe boasts up to 807 horsepower and 707 lb-ft of torque. Available convenience features include a touchscreen infotainment system, smartphone integration and keyless entry.
Are there any electric car manufacturers in Canada?
Ford, General Motors and Fiat, along with some smaller independent carmakers, have all announced plans to build electric vehicles in Canada. As of early 2022, no Canadian-built EVs have yet made it to market.
Get started on your car hunt today. Browse Kijiji Autos for cars that are made in Canada available for sale in your neighbourhood and across the country.
Easily find your next ride on Kijiji Autos
Search now