10 most popular AWD sports cars in Canada
By Kijiji Autos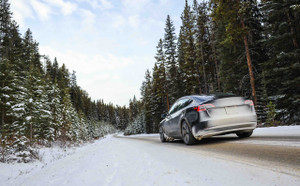 Sports cars are popular for a reason. These stylish coupes and convertibles deliver thrilling performance, powerful engines and dynamic engineering. But sports cars aren't always a practical choice for life in Canada. Luckily, there is a growing number of all-wheel-drive sports cars available.
Looking for the best AWD cars in Canada? Unlock your online car shopping experience. Our online listings connect you directly to car dealers in your area, helping you find and finance your next vehicle from the comfort of your home.
Here are 10 popular AWD sports cars, in no particular order:
1. Audi A5
The sporty Audi A5 is available in your choice of two-door coupe, two-door convertible or four-door hatchback styles. Like all Audi vehicles, this sleek sports car is equipped with standard Quattro all-wheel-drive technology, automatically switching between front-wheel and all-wheel drive as needed to optimize grip and efficiency. The luxury Audi A5 also offers premium comforts. including leather upholstery, panoramic sunroof and an optional Bang & Olufsen audio system.
Find out about this car's advanced safety features on the Audi A5 overview page
2. Porsche 911
An iconic sports car, the Porsche 911 is powerful and fun to drive. This high-performance sports car is available with either rear-wheel or all-wheel drive, depending on the model. All-wheel-drive models include the Porsche 911 Carrera 4, Porsche 911 Targa 4 and the Porsche 911 Turbo. Designed for driving enthusiasts, this legendary car offers up to 640 horsepower; your choice of coupe, convertible or targa style; and seriously impressive handling.
Learn about this car's premium interior on the Porsche 911 overview page.
3. BMW 4 Series
The BMW 4 Series is a sporty compact car available in both coupe and convertible styles and your choice of rear-wheel or all-wheel drive. AWD cars from this series feature the xDrive name, BMW's intelligent all-wheel drive system, which distributes power to the front and rear wheels based on factors like road condition. Like other luxury AWD sports cars, BMW 4 Series models feature premium interiors and state-of-the-art technology.
Browse BMW 4 Series for sale in your area on Kijiji Autos.
4. Audi TT
The small and stylish Audi TT is available as a four-seat coupe or two-seat roadster convertible. All models come equipped with Audi's Quattro all-wheel-drive technology, meaning you don't have to put this sports car away when winter arrives. The Audi TT is equipped with a 228 horsepower four-cylinder engine and seven-speed automatic transmission. Drivers who love the look of the Audi TT but want more power might prefer the Audi TTS or Audi TT RS
Discover more features on the Audi TT overview page.
5. Infiniti Q60
A striking two-door sports coupe, the Infiniti Q60 offers standard rear-wheel drive or optional all-wheel drive. This luxury sports car has a comfortable interior that can be equipped with premium features like heated leather seats, heated leather-wrapped steering wheel and a 13-speaker Bose audio system. Look for advanced safety features, like blind-spot monitoring, 360-degree parking cameras and adaptive cruise control.
Learn more on the Infiniti Q60 overview page.
6. Lexus RC
The Lexus RC is a luxury sport coupe available with rear-wheel or all-wheel drive. The popular Lexus RC 350 features a 311 horsepower V6 engine paired with an eight-speed automatic transmission. While the acceleration on this sports car might not be as quick or thrilling as some of the others, it does offer excellent reliability. Lexus AWD cars, like Toyota AWD cars, are known for being safe, durable and well-engineered. Plus, the Lexus RC is stylish, sophisticated and comfortable.
Find a Lexus RC 350 for sale in your area on Kijiji Autos.
7. Audi R8
The powerful Audi R8 is a thrilling high-performance sports car with enough practicality for daily use. Available in two-door coupe and Spyder convertible styles, this bold supercar seats two in its snug yet comfortable cabin. Until 2020, Quattro all-wheel drive was standard on all Audi R8 models. In 2021, Audi introduced rear-wheel drive on base models, reserving all-wheel-drive capability for Audi R8 Performance models.
Discover this car's interior and performance features on the Audi R8 overview page.
8. Jaguar F-Type
Beautiful to look at, dynamic to drive, the Jaguar F-Type is a two-seat sports car available with rear-wheel or all-wheel drive. This sleek car offers three engines ranging from a turbocharged 296 horsepower four-cylinder to a supercharged 575 horsepower V8. In terms of style, the Jaguar F-Type is available as a coupe or convertible. As a luxury vehicle, you can expect the interior to be well-outfitted with features like leather upholstery, touchscreen infotainment system and available panoramic sunroof.
Read about this car's safety features on the Jaguar F-Type overview page.
9. Mercedes-Benz C-Class
The Mercedes-Benz C-Class offers a variety of body styles: two-door sports coupe, two-door convertible, four-door sedan and four-door wagon. This small luxury car is available in a range of trim levels, with the top-of-the-line Mercedes-Benz AMG C63 S delivering 503 horsepower, all-wheel drive and sport-tuned suspension. While rear-wheel drive is standard on most C-Class models, Mercedes-Benz 4MATIC all-wheel drive is available, offering increased traction in slippery conditions.
Learn about this car's luxury interior on the Mercedes-Benz C-Class overview page.
10. Dodge Challenger
A classic American muscle car, the Dodge Challenger is the only car in its class with all-wheel drive. While some may debate whether a muscle car is a sports car, this one's power and performance can't be argued with. Offering up to 807 horsepower, the Dodge Challenger is thrilling to drive, and the roar of the engine will definitely get your heart racing. While the exterior may be retro, the interior is up-to-date with features like a touchscreen infotainment system with Apple CarPlay and Android Auto.
Find out about standard safety features on the Dodge Challenger overview page.
Convenient shopping with Kijiji Autos
Feel confident and in control of the process. Browse the site for the all-wheel-drive car of your dreams, then set up a saved search. We'll notify you when cars matching your search parameters are listed. Our Advice Hub is filled with useful tips from industry experts and model research on hundreds of cars. Instant price analysis and car mileage analysis tools help you compare prices to make sure you're getting a fair deal.
Easily find your next ride on Kijiji Autos
Search now